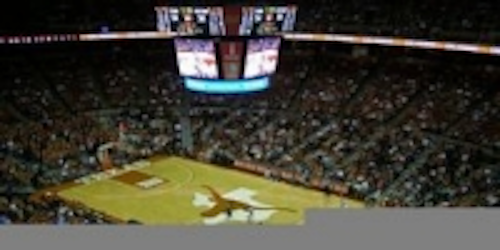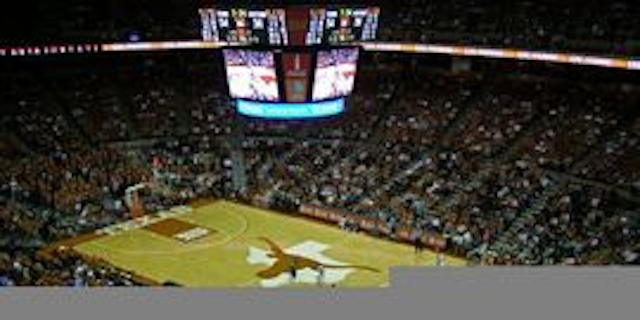 Date Announced: 02 Dec 2008
BROOKINGS, S.D. – Dec. 2, 2008 – Daktronics announced today that it has designed, manufactured and installed fully integrated scoring and display systems for The University of Texas basketball and softball facilities in Austin, Texas.
A new center-hung scoring and video display system has been installed in the Frank C. Erwin, Jr., Special Events Center. Daktronics retrofit the Longhorns' old system with a total of nine LED video displays.
Four Daktronics PS-23 LED video displays measuring approximately 6 feet high by 22 feet wide sit at the top of UT's new basketball centerpiece. A Daktronics PS-10 LED video display measuring approximately 10 feet high by 13 feet wide rests in the center of each side of the new system and will be used to show live and recorded video, fan entertainment, scoring and advertising information.
An LED video display ring measuring approximately 3 feet tall by 69 feet in circumference completes the Longhorn's upgraded centerhung system, which has overlooked every Texas home basketball game this season.
The arena's fascia now supports an LED display measuring 2 feet tall by more than 760 feet wide. A video marquee using Daktronics PS-12 technology greets patrons outside the Erwin Center and keeps them updated on arena events.
"Daktronics is excited to provide the Erwin Center with video, scoring and advertising upgrades," said Dan Fjeldheim, Daktronics sales. "We are proud to continue our relationship with UT Athletics with these enhancements for the basketball and softball programs."
Daktronics has also provided a new scoring and video display system for Red & Charline McCombs Field in Austin. The PS-23 LED video display installed in the outfield measures approximately 11 feet high by 34 feet wide.
These basketball and softball installations come as additions to the Daktronics equipment previously installed at the Longhorns' football, baseball, aquatics and track/soccer facilities.
Daktronics LED video displays use the latest in red, green and blue (RGB) LED technology to present live and recorded video images, colorful animation and vivid graphics with incredible brightness and wide-angle visibility. Daktronics LED video display technology offers a long lifetime with minimal maintenance and low power consumption, providing value and excitement for years to come.
About the University of Texas
Besides having one of the top five largest undergraduate and overall enrollments in the nation and a prestigious graduate school, The University of Texas at Austin has historically had one of the nation's premier men's and women's athletics programs. The Longhorns have built some of the most competitive programs in the Big 12 Conference and the entire country.
About Daktronics
Daktronics, celebrating its 40th year of business in 2008, is recognized as the world's leading provider of full-color LED video displays. Daktronics began manufacturing large screen, full-color, LED video displays in 1997. Since then, nearly 5,000 large screen video displays have been sold and installed in sporting and commercial facilities around the world. Since 2001, independent market research conducted by iSuppli Corp. lists Daktronics as the world's leading provider of large screen LED video displays.
Daktronics has strong leadership positions in, and is the world's largest supplier of, large screen video displays, electronic scoreboards, computer-programmable displays, digital billboards, and control systems. The company excels in the control of large display systems, including those that require integration of multiple complex displays showing real-time information, graphics, animation and video. Daktronics designs, manufactures, markets and services display systems for customers around the world, in sport, business and transportation applications.
Contact
Daktronics 331 32nd Ave. PO Box 5128 Brookings, S.D. 57006-5128 Ph: 605/697-4300 or 800/325-8766 in the US
E-mail:sales@daktronics.com
Web Site:www.daktronics.com