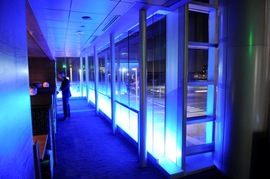 Date Announced: 04 Dec 2008
Pedestrian Strands, Kansas City, Missouri
The Pedestrian Strands project utilizes 64 LightWild cool white LED Project Linear fixtures in 5-foot (1.5 m) lengths to edge-light several unique outdoor glass panels along pedestrian walkways in downtown Kansas City.
A custom "J" shaped stainless steel mounting bracket was engineered by LightWild to hold the fixture in place against the edges of the glass panels. El dorado inc. provided the design; the artist was James Woodfill.
Monterey Bay Fish Grotto, McLean, Virginia
LightWild Junior Linears with all blue and all cool white LEDs have been used to illuminate several features of the Monterey Bay Fish Grotto restaurant (see photo). The perimeter water-like effect around the glass dining room is accomplished with 31 blue LED LightWild Junior Linears embedded in the base of the glass walls.
Inside the room, seven Junior Linears with cool white LEDs create the effect of wind-blown sand by grazing the textured features of a modular art wall. Additional cool white Junior Linears are used on divider panels inside the main dining room to meet the design goal of a "glowing field of dry ice." The architect was Core Architecture Design.
Photo Credit: Kaveh Sardari
Sunset Millennium, West Hollywood, California
The Sunset Millennium project consists of 71 RGB LightWild Pixels with a frosted diffusing lens. The Pixels are installed in a grid layout on the exterior west wall of this building located on Sunset Boulevard.
Each LightWild Pixel is individually controlled by LightWild LED controllers with seven pre-programmed light shows that run across the installation. Fluoresco Lighting and Sign of Pomona, CA, provided the design.
Contact
LightWild 7320 W. 162nd Street Overland Park, KS 66085 Ph: 913-851-3000
E-mail:projects@lightwild.com
Web Site:www.lightwild.com