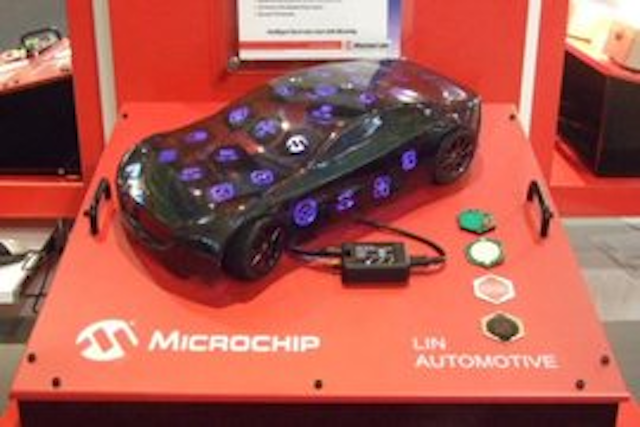 Date Announced: 13 Dec 2008
-- Innovative automotive electronics demonstrator combines light and touch technology to connect with systems designers
Livingston, UK -- Design LED has provided key technology enabling Microchip to realise an interactive demonstrator for its automotive electronics solutions.
The combination of Design LED's printed light guides and Microchip's mTouch™ capacitive sensing technology have been used to create touch-sensitive areas on the body of a model car, to illustrate how Microchip technologies improve aspects such as comfort, safety, performance and economy.
The new demonstrator allows presenters to compile interactive presentations that are easier to understand and more involving for customers. Touching an icon triggers PC presentation software to deliver an overview of Microchip's offering in the chosen application.
"Vehicle designers can create exciting new opportunities using our embedded computing solutions, and this new intuitive demonstrator will encourage creative thinking," said Andy Lewis designer of the demonstrator and UK senior FAE of Microchip. "Design LED's technologies and support throughout the project have helped us achieve a truly outstanding result. We will be building several demonstrators for our teams to use worldwide."
Printed light guide technology, developed and patented by Design LED, has been central to the success of the project. Designers can build imaginative user-interfaces quickly and cost- effectively, avoiding the high cost of injection moulded light guides or the need to attach a PCB behind the front panel.
The light guides combine readily with capacitive touch sensing to enable ultra-low-profile switches and instrument panels. Illuminated logos or icons such as those created for the Microchip demonstrator can be added, and the LEDs can also be controlled to create animated effects. Unlike conventional panel backlighting, the uniform illumination from a printed light guide delivers high visual quality.
"This project shows clearly how designers are able to realise imaginative ideas and achieve a high-quality result, even in low volumes, using printed light guides" said Iain Kyle of Design LED Products. "We were delighted to partner with Microchip and look forward to working on similar projects to create next-generation marketing materials."
The demonstrator body was designed by Peter Atkinson of Coventry University School of Art and Design and produced by staff at the University's Department of Industrial and Transport Design. The illuminated capacitive switch was designed by Design LED Products & IGT Industries Limited.
About Design LED Products Limited
Founded in early 2004, Design LED products have developed and patented a manufacturing technology to embed Light Emitting Diodes within printed light guides. This enables thin, inexpensive, segmented display panels suitable for a range of applications from consumer electrical & electronic devices, automotive, point or sale advertising & industrial keypads.
Design LED aims to become the world leader in printed light products technology in a wide range of markets including consumer electronics, automotive, industrial and point of sale. More than 50 billion LEDs are sold every year into products and Design LED has the opportunity to both displace existing solutions and enable a new generation of products.
Contact
Design LED Products Limited, Alba Innovation Centre, Alba Campus, Livingston, West Lothian, EH54 7GA. Tel: +44 (0) 1506 592310 IGT Industries Ltd, Woodside Road, Woodside Road Industrial Estate, Eastleigh S050 4ET. Tel +44 (0)23 8061 0818; E-mail:sales@igt-industries.com; Web:www.igt-industries.com
E-mail:info@designledproducts.com
Web Site:www.designledproducts.com