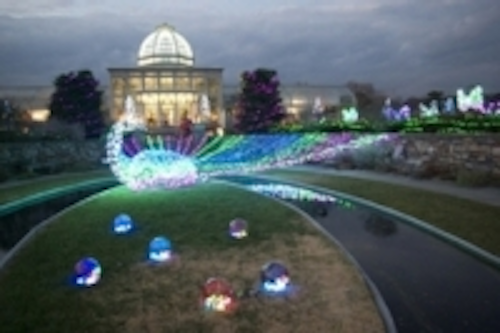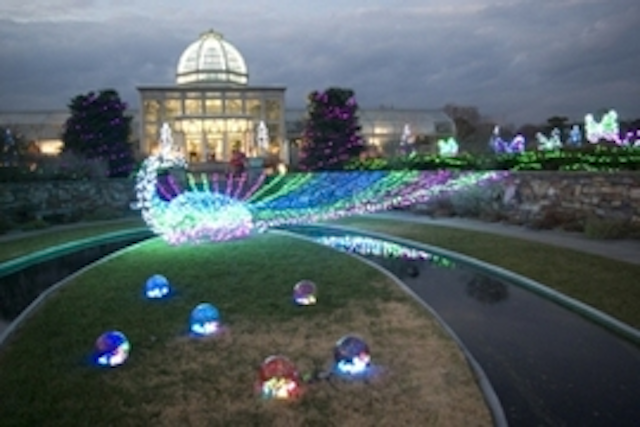 Date Announced: 18 Dec 2008
This year's GardenFest of Lights at Lewis Ginter Botanical Garden in Richmond, Virginia, will use more than 18 miles of LED strands in its 500,000+ light display.
Last year, Garden staff began replacing GardenFest lights with LEDs. LED holiday lights are slightly more expensive than incandescent, yet pay for themselves in the first year through electricity savings (13 to 17 cents to light a holiday tree per season with LEDs compared to $6 to $10 for incandescents).
This year's theme is Nature's Beautiful Web, inspired by the children's book Cobweb Christmas.
Author Shirley Climo based her story on a charming German folktale that has been retold for hundreds of years in many lands. Supposedly Kris Kringle magically transformed humble spider webs spun on a holiday tree into "gleaming gold strands and sparkling silver threads."
The shimmering tinsel that resulted gave great joy to "a little, old woman named Auntie"... and continues to delight us today. Visit Auntie and her animal friends in the Conservatory's West Wing, then see how many of her friendly spiders and "tinseled webs" you can spot throughout the Garden -- including a gigantic, shimmering spider web that will lace across the Sunken Garden pool.
Other displays and attractions include:
• More than half a milion lights including flamboyant peacocks (see photo), luminous ten-foot dragonflies and larger-than-life butterflies.
• Model trains in Classroom 1 of the Education Building and the Conservatory -- thanks to the Virginia Train Collectors (VTC) whose focus is "O", "O27" & "Standard" gauge toy trains manufactured pre-World War II & in early post-war years.
• The Children's Garden with aerial views from the CWDKids Tree House, two puzzling mazes, a warming firepit and more!
• In the Consevatory -- a majestic holiday tree in jewel-toned splendor overlooks model trains that meander through a miniature woodland village.
The GardenFest of Lights is open through Monday, January 12, 2009, from 5 pm-10 pm.
[Editor's Note: For more holiday display photos from LEDs Magazine, go to
LED Holiday Lights: See the brightest results
]
Contact
Lewis Ginter Botanical Garden 1800 Lakeside Avenue Richmond, Virginia Ph: (804) 262-9887, ext. 300
E-mail:BethM@lewisginter.org
Web Site:www.lewisginter.org