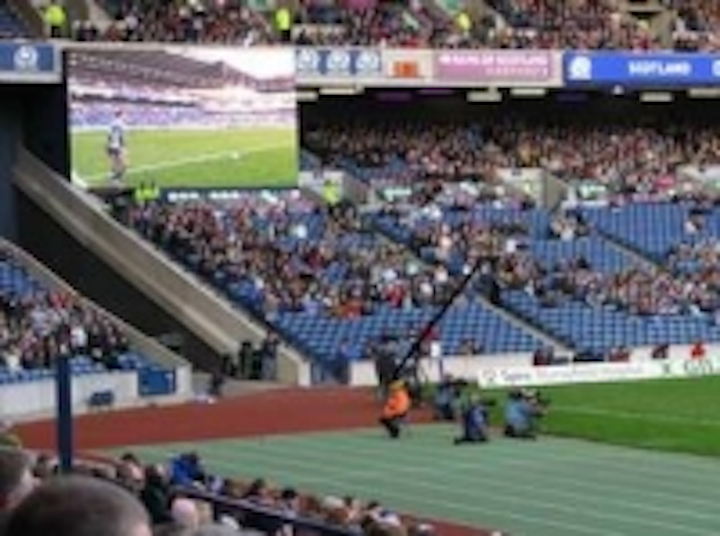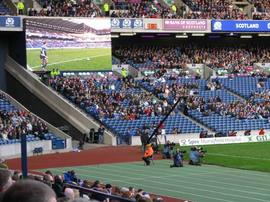 Date Announced: 10 Dec 2008
ADI's latest stadium LED screen installation went live last month, as Scotland took on New Zealand for the first of their Bank of Scotland Corporate Autumn Tests at Murrayfield Stadium in Edinburgh, Scotland.
The installation for Scottish Rugby is the largest in UK rugby, with two giant 60 sq m Virtuality LED screens and two accompanying 26 sq m digiSCORE LED scoreboards installed at Murrayfield, the biggest stadium in Scotland.
ADI operates 50% of screens in English football, with Virtuality screens installed in more stadiums than any other brand. Murrayfield is the first rugby stadium to feature Virtuality screens and one of the first stadiums to feature the new digiSCORE LED scoreboard system.
The contract with Scottish Rugby was agreed in mid August, with ADI completing the install within a 12-week timeframe. ADI was able to offer its consultancy guidance on all aspects of the installation, fully project-managing the process and ensuring all hardware was installed a week prior to launch, ready for in-situ testing.
Post-installation, ADI continues to work in partnership with Scottish Rugby, managing, operating and maintaining the screens and scoreboards, as well as creating match day content and managing programming.
Having previously hired smaller LED screens for major occasions, Scottish Rugby decided the time was right to invest in permanent screens.
"We decided to go for permanent screens, to improve the match day experience for supporters at Murrayfield, and also to enhance the world-class facilities that play a key part in attracting major events to Edinburgh," said Scottish Rugby's chief executive, Gordon McKie. "We have hired big screens for many events at Murrayfield over the years, but the size and positioning of these screens (in the past erected in the North and South tunnels) was never ideal. Big screens are now an absolutely integral part of modern professional sport, especially when you consider in a rugby context the drama of a referral to the video referee."
"It gives us great pride to partner with Scottish Rugby as their screen provider to one of the UK's leading and most iconic stadiums," said Robin Currie, sales manager at ADI. "We are conscious of the commercial role that LED screens play in the modern stadium; not only do they form an important experience enhancer, but also play a key role in helping the stadium and its partners to communicate with fans on match day."
Virtuality LED Screens
The two 60 sq m LED screens at Murrayfield are the v10 model from ADI's proprietary brand, Virtuality. Developed and manufactured exclusively by ADI, Virtuality has had over 1,200 sq m of product installed since 2006. The Virtuality v10 has been developed especially for the grass-sports market – with two green LEDs per pixel, giving greater and richer color definition.
digiSCORE LED Scoreboards
The 26 sq m digiSCORE scoreboards are a new product on the market, bringing the impact and flexibility of LED technology to the scoreboard environment. Because digiSCORE is built on proven Virtuality technology, it can be built to meet any size and shape requirements. Murrayfield's digiSCORE are the largest in commission, at a huge 21m linear length.
Key to the success of digiSCORE is the custom-built software interface, allowing for quick, simple and customizable control of content. Content can be previewed and played out "on-the-fly" and it also features a fully customizable match clock.
Screen Production
ADI managed and compiled programming for the match day screen content as well as creating bespoke programming to be included. Prior to the match, the screens ran a 90 minute program to entertain the crowd and build up excitement prior to kick-off, which featured highlights of recent Scotland games, programming promoting the Scotland team and Scottish Rugby's "We Are Scotland" campaign and promotions for future Scottish Rugby events.
About ADI Group
ADI Group is one of the original suppliers of LED screens in this country, having installed most of the screens in English football. These skills have been transferred into the rental market, where they are one of Europe's leading providers to a wide range of clients. As a solutions provider, it is their unique product offering that sets them apart from their competition and includes advanced Outside Broadcast units, Television Production and Streaming facilities and Media Sales.
Contact
Oliver Brindley The ADI Group Pittman Court, pittman Way Fulwood, Preston PR2 9ZG UK 07866 608867
E-mail:oliver.brindley@theadigroup.com
Web Site:www.theadigroup.com