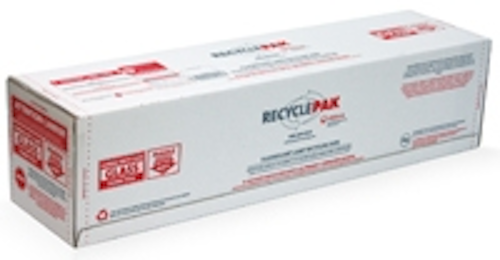 Date Announced: 22 Dec 2008
FOR IMMEDIATE RELEASE
Halco Reveals Alliance with Veolia with RECYCLEPAK®
Norcross, Ga. - Halco Lighting Technologies® is pleased to announce its involvement with aiding in the preservation and protection of the environment by carrying Veolia's® line of prepaid recycling kits, RECYCLEPAK®. Veolia Environmental Services (VES)® operates in over 42 countries and offers a complete range of services for the disposal of hazardous and non-hazardous lighting and electronic waste.
The Recycle kits ensure complete compliance with local and state disposal regulation and are available in variety of sizes for linear, HID, compact fluorescents as well as ballasts. Veolia's selection of prepaid packaging gives you a choice depending upon your needs. The price of each kit includes packaging, prepaid shipping labels and a certificate of recycling. Consumers simply store lighting wastes in the fully lined kits and ship the kits out when they are full. Veolia's award winning program makes recycling straightforward and convenient.
About Halco Lighting Technologies®
Halco Lighting Technologies® is a global manufacturer of high quality lamps and ballasts designed for residential, industrial/commercial, and special lighting applications. Established in 1974, the company has U.S. distribution centers in Atlanta, Cleveland, Houston and Phoenix. For more information, visit www.halcolighting.com.
About Veolia Environmental Services
Veolia Environmental Services North America Corp., headquartered in Lombard, IL, offers fully integrated environmental solutions to virtually all-industrial, commercial, municipal and residential sectors. It is part of the Veolia Environmental Services (VES) group, the only global manager of liquid, solid, non-hazardous and hazardous waste; on-site waste processing, industrial cleaning and process maintenance; and recycling, recovery and disposal for both the public and private sectors. For more information, please visit www.VeoliaES.com.
Contact
Deby Forster Marketing Manager Halco Lighting Technologies (800) 558.2852 dforster@halcolighting.com
E-mail:info@halcolighting.com
Web Site:www.halcolighting.com