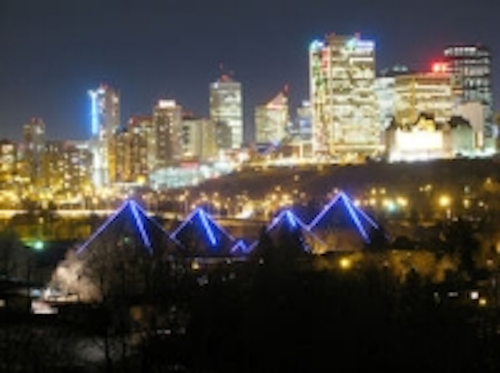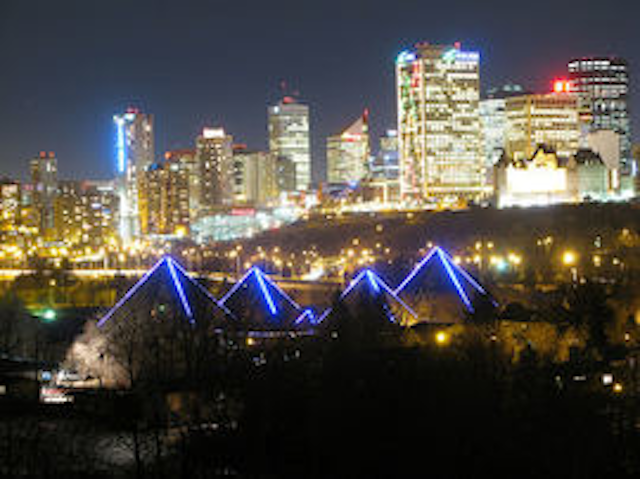 Date Announced: 13 Dec 2008
When the City of Edmonton Community Service Dept. in Canada wanted to enhance the night time appearance of the Muttart Conservatory they wanted to utilize the energy efficiencies of LED, so contacted ElektoLED's Canadian Distributor Optilume Engineered Light Corporation for a solution. Elektor-FLEX RGB System was the ideal product, enabling the operators to choose from a palette of 16.8 million colors.
The Muttart Conservatory is Edmonton's premier horticultural attraction, featuring four beautiful glass pyramids filled with rare and wonderful plants from all over the world, therefore the lighting needed equally as stunning.
The installation of the Elektor-FLEX was carried out by specialist contractors, assisted by Optilume, with commissioning carried out by ElektoLED Technicians from the UK.
Comprising nearly 400 metres of RGB Elektor-FLEX and utilising over 30,000 LED's the total installation uses approximately 10% of the energy consumed by the original rope lighting installation. With full DMX control, from a SUNLITE control and Easy Stand Alone software, the whole installation can be simply controlled to create dynamic effects.
The project was co-ordinated by Optilume CEO Guy Meyer and ElektoLED's Sales Director, Adam Knight. The end result being an installation that has sparked praise from the client, the local community and all concerned with the project.
Contact
Kevin Knight. FInstSMM General Manager ElektoLED Ltd Tel: +44 (0) 1621 741460
E-mail:sales@elektoled.com
Web Site:www.elektoled.com