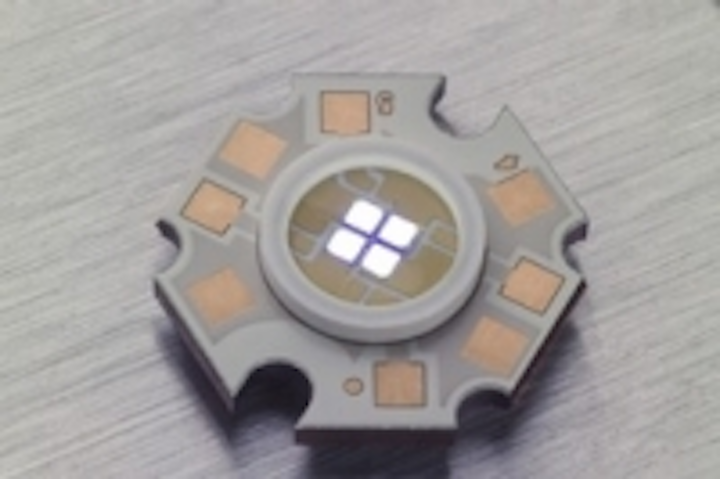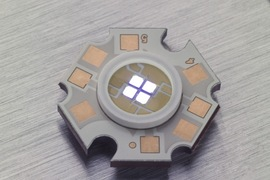 Date Announced: 05 Jun 2008
New All-White and Multi-Color/White ACULED Products Offer Customers
Expanded Design Options and Limitless Color Possibilities
LAS VEGAS, NV – PerkinElmer Optoelectronics, a global technology leader in specialty lighting, optical detection technologies, and digital imaging, showcased its new white LED product suite as part of its growing ACULED® family of standard and custom LED solutions at Lightfair International 2008.
The newest addition to the ACULED family of high power and efficiency LEDs is a full line of all-white LEDs and multi-color/white LEDs, under the ACULED® VHLTM (Very High Lumen) brand name. The new white offerings provide superior color mixing, four separately addressable chips, adjustable color temperatures and low thermal resistance. The new standard multi-color/white product offerings include: the "RBG6" with red, green, blue, and white chips (6500K); the "666R" with three white chips (6500K) and one red chip; and the "R5G5" with red, white (5700K), green chips which is tunable over a wide spectrum. In addition, custom lighting combinations that include white chips are available under the ACULED® DYOTM (Design-Your-Own) brand name.
"We are very excited to expand our ACULED family with the addition of a range of all-white and multi-color/white LED offerings, providing customers with significantly broader design options to suit their lighting needs," said Dr. Michael Kramer, managing director LED Solutions, PerkinElmer Optoelectronics. "These environmentally-friendly, energy-efficient LEDs will deliver important benefits to our lighting customers."
The ACULED product family offers eco-friendly design solutions for a wide range of applications including illumination, medical lighting, aircraft lighting, projection, and signaling. All products in the ACULED family are fully RoHS-compliant.
PerkinElmer representatives demonstrated the design benefits of the complete line of standard ACULED products as well as its exclusive ACULED DYO or "Design-Your-Own" series.
PerkinElmer Optoelectronics is a global technology leader in digital imaging, specialty lighting and optical detection technologies, providing applications-driven, integrated solutions to leading OEMs in Health Sciences and Industrial Sciences markets.
PerkinElmer, Inc. is a global technology leader driving growth and innovation in Health Sciences and Photonics markets to improve the quality of life. The Company reported revenues of $1.8 billion in 2007, has 9,100 employees serving customers in more than 150 countries, and is a component of the S&P 500 Index. Additional information is available through www.perkinelmer.com or 1-877-PKI-NYSE.
Contact
Anthony Lauletta Marketing communications manager Ph: 978-224-4127
E-mail:anthony.lauletta@perkinelmer.com
Web Site:optoelectronics.perkinelmer.com