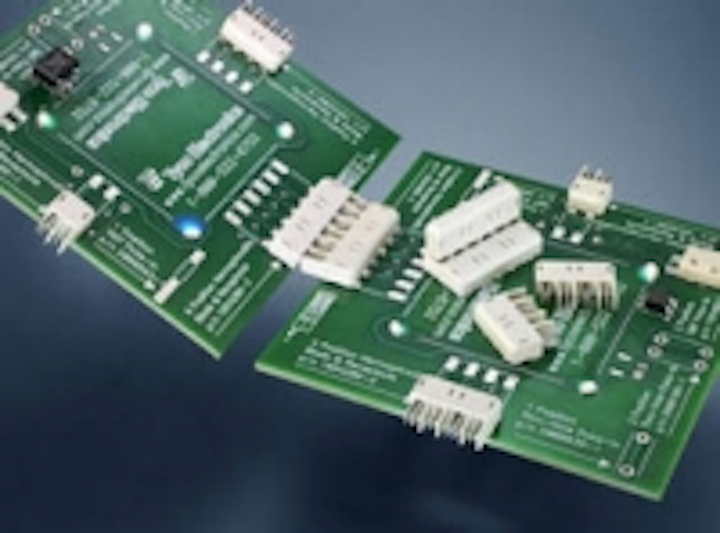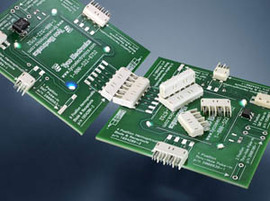 Date Announced: 23 Jun 2008
-- Surface-Mount Hermaphroditic Blade and Receptacle Design Promotes Fast Assembly --
HARRISBURG, Pa. – A new in-line connector from Tyco Electronics is designed to make connecting of aluminum-clad printed circuit boards for LED lighting applications that include lighting controls and LED light modules faster and easier.
The low-profile surface-mount connector, available in two, four, and six positions, uses a hermaphroditic blade and receptacle design to allow LED printed circuit board strips to be joined with more flexibility than with traditional post-and-receptacle headers.
Connections can be made by sliding the two boards together horizontally or vertically. The unique capability to slide the two boards together vertically makes replacement of a board in mid-strip easier by lifting up the strip to be replaced and lowering in the new one.
The new connector features a flexible mating engagement allowance of 2.5 mm horizontally and 1.1 mm vertically to accommodate variations in the mounting of the pc boards. It also permits right-angle mating of the boards.
The hermaphroditic design results in only one part to be inventoried and simplifies design by allowing the same footprint on both ends of the strip. The liquid-crystal polymer housings are available either tape or reel mounted, are compatible with vacuum pick-and-place equipment and reflow soldering, and feature a low, space-saving profile of only 3.2 mm. They have a 5 A current rating. Materials are RoHS compliant.
ABOUT TYCO ELECTRONICS
Tyco Electronics Ltd. is a leading global provider of engineered electronic components, network solutions, wireless systems and undersea telecommunication systems, with fiscal 2007 sales of US$13.5 billion to customers in more than 150 countries. We design, manufacture and market products for customers in industries from automotive, appliance and aerospace and defense to telecommunications, computers and consumer electronics. With approximately 8,000 engineers and worldwide manufacturing, sales and customer service capabilities, Tyco Electronics' commitment is our customers' advantage.
Contact
Tyco Electronics' Technical Support Center Ph: 800-522-6752
E-mail:newproducts@tycoelectronics.com
Web Site:www.tycoelectronics.com