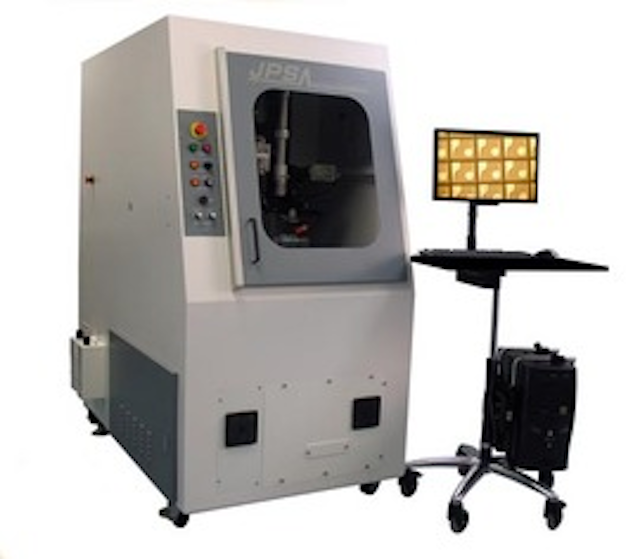 Date Announced: 30 Jun 2008
Manchester, New Hampshire, USA – J P Sercel Associates (JPSA) will unveil its IX-4000 series of high-throughput, high speed Class 1 laser workstations at SEMICON West 2008. There are two systems in the 4000 series; the IX-4100 ChromaDice and IX-4600 CromAblate. Both are designed for automated wafer processing with the ability to handle up to 300mm wafers.
The IX-4100 ChromaDice is designed for wafer singulation applications, whilst the IX-4600 ChromAblate is ideal for LED production, selective wafer annealing, micro-drilling, thin film patterning, 3-D micromachining, and many more applications. The IX-4100 system will be on exhibit in booth #8713.
Based on the successful IX-210 and IX-260, the 4100 and 4600 feature automation and capability enhancements. In addition to 300mm wafer processing, these enhancements include automatic wafer loading, an integrated automated coating/cleaning station, and a vision system for automatic wafer alignment. JPSA IX- 4100 series systems employ UV laser energy in a fast, low-stress method of singulation that minimizes chip breakage after cutting, for higher yields, with kerfs as narrow as 2.5 microns, and minimal debris generation in a vibration-free process.
The IX-4600 is a UV excimer-based laser system that uses proprietary and patented UV laser technology to produce high-brightness LEDs through a patented lift-off method. LED liftoff dramatically reduces the time and cost of the LED fabrication process. Additionally, it enables the manufacturer to grow vertical design LED devices which provide the highest light output LEDs.
JPSA IX-4000 series systems are designed and optimized for demanding 24/7 high volume production, yet boast high accuracy. The IX-4600 ChromAblate can micromachine features to 2um or be configured for large area exposure of up to 5mm x 5mm. These systems feature dual cassette load ports, production grade robotics, and many other robust features characterizing industrial-grade systems. They are compact, modular, fully automated, versatile systems with large work areas and full accessibility.
About J. P. Sercel Associates
JPSA products and services include UV excimer, DPSS and ultra-fast laser micromachining systems, laser beam delivery systems, laser materials processing development, optical damage testing, and excimer laser refurbishment services. JPSA operates a high-performance contract manufacturing facility as well as a systems engineering and manufacturing business.
Contact
Rick Slagle J.P. Sercel Associates 220 Hackett Hill Road, Manchester, NH, 03102 USA; Tel. 603.518.3200, Fax 603.518.3298 rslagle@jpsalaser.com
E-mail:rslagle@jpsalaser.com
Web Site:www.jpsalaser.com