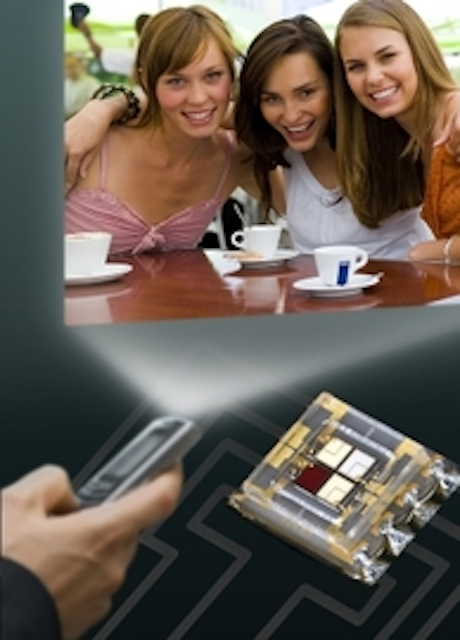 Date Announced: 12 Jun 2008
The new OSTAR Projection SMT LED from OSRAM Opto Semiconductors is more compact and efficient than ever before and is designed for integration into ultra-miniature pico projection applications where space is at a premium. This compact LED module measures just 5.8 x 4.7 x 1.5 mm and, in contrast to its predecessor, does not require additional connectors on board for electrical interface. Thanks to SMT (surface mount technology), this new version of the OSTAR Projection LED is now suitable for standard soldering processes.
The OSTAR Projection SMT LED is ideal for applications such as the pico projectors now being integrated into cell phone and other mobile appliances. Pico projectors can be either integrated directly into the phone housing or attached to the phone as an accessory.
An embedded cell phone pico projector typically measures 1.5 cm x 3.0 cm; in this configuration, the OSTAR Projection SMT LED provides a system brightness of 10 screen lumens (lm) with a power consumption of 1 W. The larger accessory versions of pico projectors, which measure 7.5 cm x 7.5 cm, can be operated with a higher wattage and can achieve brightness values of more than 15 lm.
"Personal mobile device projection is the next wave of technology that will be integrated into today's function-rich cell phones," said Mike Godwin, director, LED marketing, OSRAM Opto Semiconductors, Inc. "The OSTAR Projection SMT LED shows the versatility of OSRAM LEDs in next-generation consumer applications, making it possible to achieve high-performance operation from micro-sized packages."
A single OSTAR Projection SMT LED module contains four 1 mm² RGB chips – two green, one red and one blue. As an alternative to this RGB version, the OSTAR Projection SMT LED is also available with four monochrome ultra-white, red, green or blue chips. Depending on the color, the chips are based on Thinfilm or ThinGaN technology and are designed for optimum efficiency. The chips are located together with ESD protection diodes on a ceramic carrier with a monolithic glass window to provide cover and protection. Besides pico projectors, the compact but powerful OSTAR Projection SMT LED also lends itself to other applications such as specialty and fiber lighting.
Samples of the OSTAR Projection SMT LED are available now; volume production will commence in Fall 2008.
About OSRAM Opto Semiconductors
OSRAM is part of the Industry sector of Siemens and one of the two leading lighting manufacturers in the world. Its subsidiary, OSRAM Opto Semiconductors GmbH in Regensburg (Germany), offers its customers solutions based on semiconductor technology for lighting, sensor and visualization applications.
OSRAM Opto Semiconductors has production sites in Regensburg (Germany) and Penang (Malaysia). Its headquarters for North America is in Santa Clara (USA), and for Asia in Hong Kong. OSRAM Opto Semiconductors also has sales offices throughout the world. In the 2007 fiscal year (to the end of September) OSRAM Opto Semiconductors employed more than 4,000 people and achieved sales totaling 520 million euros. For more information go to www.osram-os.com.
Contact
OSRAM Opto Semiconductors Ph: 888-446-7726
E-mail:bill@macrovis.com
Web Site:www.osram-os.com