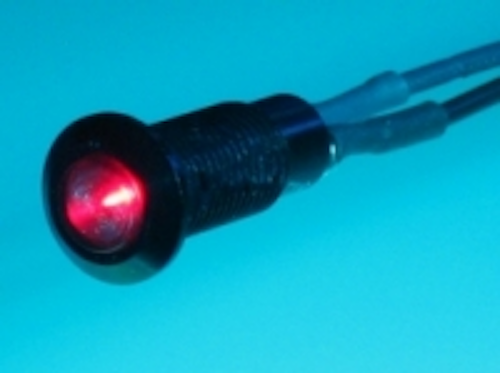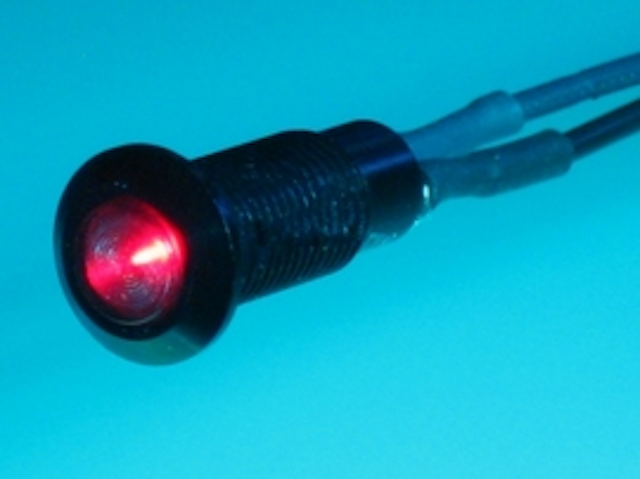 Date Announced: 01 Sep 2008
Ulverston, UK -- Marl has expanded its range of lightweight aluminium LEDs aimed at weight critical portable equipment and aerospace applications. These LEDs are up to 30% lighter than brass or steel cased equivalents.
Marl has extended the standard voltage range of its popular 612 Series, offering voltages from 5V to 60V from stock. With a black anodised aluminium housing sealed to IP67, the 612 Series is suitable for demanding applications including those involving exposure to high vibration.
Features of the range include optional flying lead terminations, and a choice of five colours. An internal reverse voltage protection diode is fitted as standard to all models, to help prevent damage in the event of the incorrect application of polarity. Marl 612 Series LEDs are 9mm in external diameter, have a mounting hole diameter of 6.35mm, and weigh just 4.09g.
For portable applications requiring an even smaller solution Marl offers the 603/604 Series in nickel plated brass, with an external diameter of 7.9mm and mounting hole of 5.0mm.
About Marl
Marl has specialised in the design and manufacture of visible LED indication and illumination components and systems for over 35 years, to customers in the electronic, power generation, defence and telecommunications industries. Its highly trained and experienced team of over 100 design and manufacturing specialists operate from a dedicated technology park in Ulverston, England and stand ready to offer its customers a solution to any requirement. They are able to offer a range of standard products, customised to suit individual projects, or even design a specific component from scratch. Marl is a quality company. It is registered to BS EN ISO 9001:2000 standard and fully RoHS and WEEE compliant.
[Photo caption: The 612 Series of lightweight LEDs from Marl International are up to 30% lighter than brass or steel case equivalents.]
Contact
Marl International Limited, Marl Business Park, Ulverston, Cumbria. LA12 9BN, UK. Tel: +44 (0)1229 582430; Fax: +44 (0)1229 585155
E-mail:marketing@marl.co.uk
Web Site:www.marl.co.uk