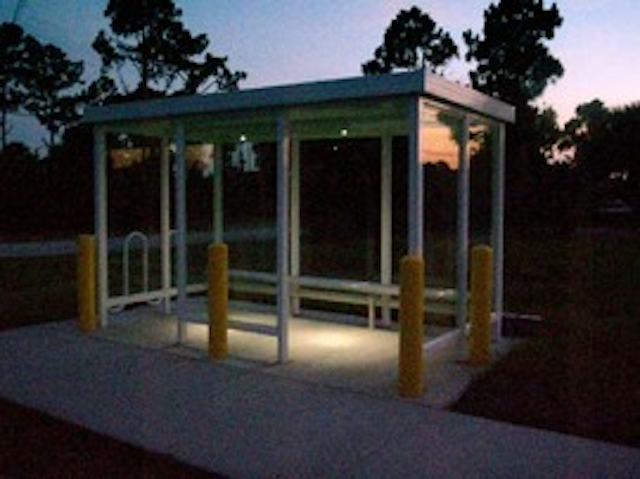 Date Announced: 08 Sep 2008
Palm City, Fla., U.S.A. — Sol Inc. (Solar Outdoor Lighting), the world leader in Solar LED outdoor lighting donated five solar powered LED Transit Shelter Security Lights to the City of Port St. Lucie, Florida, to enhance the safety and security of local school area children.
"Many of our employees live in the Port St. Lucie area and we felt compelled to assist the City's initiative in protecting children who are waiting for a ride to school." said Michael Sonnenfeldt, chairman of Sol Inc. "We are providing an environmentally friendly lighting system that improves the safety and comfort of the children and can be used to teach them about renewable energy."
Sol's most recent donation to the City of Port St. Lucie follows on the heals of recent donations of solar powered lighting systems to the communities devastated by Hurricane Katrina and last year's earthquake in Peru. In this case, the entire Sol team was pleased to have this opportunity to give back to a community much closer to home.
The new shelters are part of the City Council's ongoing efforts to provide safe areas for schoolchildren as they wait for their buses to get to school.
"The City of Port St. Lucie is extremely appreciative to Sol Inc. for the solar LED lighting donation placed in our new school bus shelters," said Larry Nadeau, Project Manager Department of Public Works for the City of Port. St. Lucie. "The donated lighting is now providing user safety during the dark hours of early-dawn. The City is fortunate to have a company such as Sol that is willing to unselfishly give of itself in making our community a better place to live."
About Sol Inc.- Sol is the world leader in solar LED outdoor lighting solutions with over 25,000 systems installed in more than 50 countries on six continents. Since 1990, Sol has introduced innovative, reliable and cost-effective solar lighting systems that provide unsurpassed levels of illumination and reliability. Sol develops, manufactures and markets commercial/industrial-grade solar powered and energy efficient lighting systems for a wide range of lighting applications including area and security, street and roadways, sign and billboards and transit and shelter lighting. Sol is ISO 9001:2000 certified and committed to superior design, manufacturing, and customer satisfaction.
Contact
Michele McDermott 772.286.9461 ext. 2032
E-mail:michelem@solarlighting.com
Web Site:www.solarlighting.com