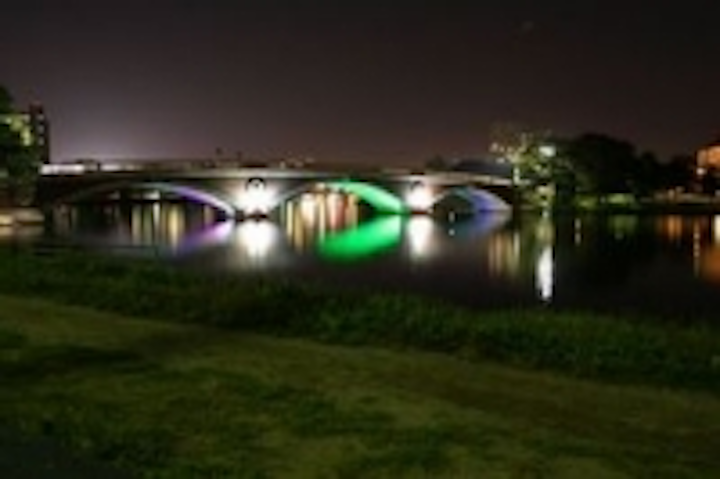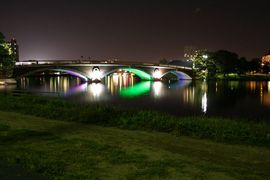 Date Announced: 25 Sep 2008
Environmentally Friendly and Energy-Efficient PhlatLight LEDs Provide Brilliant Splash of Color to Architectural Landmark
BILLERICA, Mass.--Luminus Devices, Inc., has announced that its PhlatLight LEDs are being used to permanently color the 400-foot Weeks Memorial Footbridge that links Cambridge and Allston, Mass.
The light switch on the new lights was flipped at sunset on Sunday, September 21 during the 5th Annual 'RiverSing: Bridging the Charles with Voice & Light,' the Charles River Conservancy's annual collaboration with Revels, a performing arts company known for its large-scale seasonal celebrations. The event takes place at DeWolfe Street and Memorial Drive, near Harvard Square.
The PhlatLight LED color-changing wash lights were specially designed for the Weeks Bridge by Luminus Devices and lighting artist John Powell of Light Time in Space, Inc. To illuminate the bridge, four water-proof fixtures were developed by the Luminus/Powell team. Amazingly, each fixture contains only two PhlatLight LEDs of each color, red, green and blue. By combining the three colors, the PhlatLight LEDs can be mixed into virtually any color to slowly, subtly and tastefully illuminate this architectural landmark, creating a unique ambience for the Weeks Bridge.
"Luminus is pleased to sponsor RiverSing and provide our PhlatLight LED technology for the Weeks Memorial Bridge lighting," said Alexei Erchak, founder and chief technology officer, Luminus Devices. "It is a great way for our PhlatLight technology to showcase this architectural landmark through a unique use of our environmentally friendly solid-state lighting technology and keep Boston and Cambridge at the forefront of lighting innovation."
"People will be astounded at the brightness and clarity created by PhlatLight LEDs all from only four lamps," said Powell. "In densely populated metropolitan areas, such as Cambridge, traditional lighting sources make it extremely difficult to see the atmosphere above the haze. Luminus' powerful and energy-efficient LEDs are better than anything I've seen in more than 20 years of lighting design."
RiverSing is a free, fall celebration featuring seasonal music and communal singing led by Revels music director George Emlen with help from over 100 members of Boston area choruses including the Mystic Chorale, the Halalisa Singers and Revels Repertory Company, saxophonists Stan Strickland and Ken Field and an all-star folk band (plus giant puppets Oshun and Poseidon) all perched atop the John W. Weeks Footbridge linking Allston and Cambridge.
"The addition of lights to the underbelly of the Weeks Footbridge is the continuation of an architectural lighting effort first undertaken in December 2001 with John Powell. In 2004, working closely with John Powell the Charles River Conservancy started permanent illuminations to several Charles River bridges and a new bridge was added every year," said Renata von Tscharner, president Charles River Conservancy. "We are thrilled that Luminus Devices sponsored the dramatic and innovative lighting of the Weeks Footbridge underbelly and we look forward to working with them in the future on additional illumination projects along the Charles River."
About Luminus Devices
Luminus Devices, Inc. develops and manufactures high performance solid state light sources for a variety of lighting applications, including high definition TVs, video projectors, avionics displays, as well as illumination systems for entertainment, architectural, medical, and industrial purposes. Its patented PhlatLight® (Photonic Lattice) LED products are the brightest and most versatile solid-state light sources available today and are enabling innovative products and applications never before possible. Luminus Devices' headquarters and primary manufacturing facilities are located in Billerica, Massachusetts, U.S.A.
Contact
Schwartz Communications Bill Keeler or Nicole Slein 781-684-0770
E-mail:luminus@schwartz-pr.com
Web Site:www.luminus.com