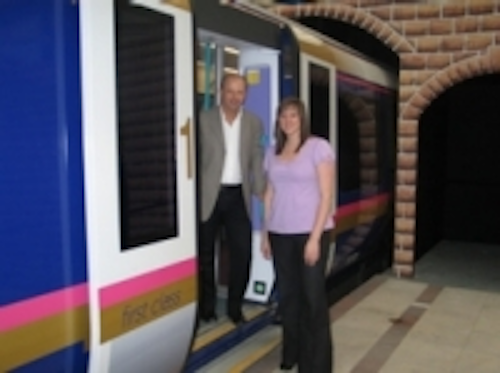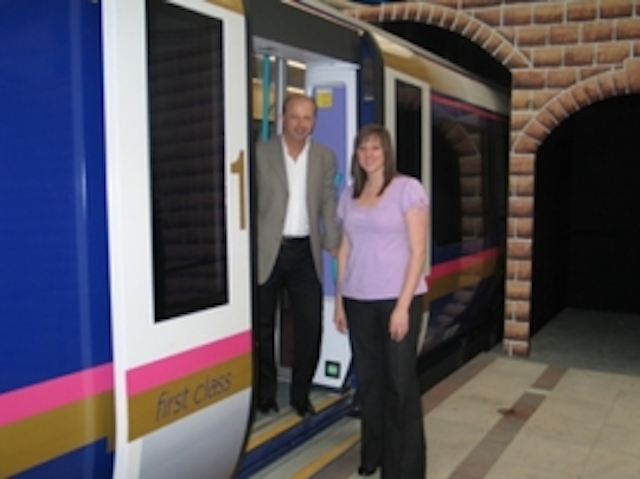 Date Announced: 17 Sep 2008
Ulverston, UK, 17 September 2008. Marl International, LED lighting specialists, and EAO, experts for rail industry controls, have formed a new partnership to take new, efficient and robust Marl LED lighting fixtures to the rail industry.
Following the recent development of powerful and highly energy efficient LED light engines, Marl has launched a range of LED products that offers a direct replacement for existing halogen bulbs in railway carriages. These replacements use a third of the energy of halogen bulbs and last over ten times as long. The company is also about to announce a fluorescent tube replacement solution that includes the option of battery-backed emergency lighting integral to the LED luminaire. Marl and EAO have co-operated successfully providing switch and illumination solutions to the rail industry, and their new partnership marks the launch of new more powerful LED lighting fixtures that address industry requirements for reduced lifetime operating costs for railway carriage lighting systems.
Commenting on the agreement Sue Jacques, Managing Director of EAO, UK said, "The addition of Marl LED fixtures for interior illumination gives EAO a complete solution for the rail passenger environment extending from switches and sound modules through safety lighting to carriage illumination. We have enjoyed a ten-year relationship with Marl on our highly successful range of rail door and cab solutions and have a high regard for the quality of their engineering and manufacturing. Their new Marl LEDs meet the strict requirements for rail industry carriage illumination and we can build on our past successes."
David Moorhouse, Operations Director of Marl International, added, "EAO has exceptionally close relationships with the rail industry, and we are excited at the prospect of opening a new market in partnership with them. Marl LEDs use less energy than halogen lights and even fluorescent tubes, they are robust and they are maintenance free. As a result we are already seeing growing adoption of the technology in refurbishment projects and in new carriage designs. We are confident that through our partnership Marl and EAO will quickly convince the rail industry of the benefits of adopting our technology."
About EAO
EAO is a global manufacturer of high-quality Human Machine Interface products and solutions, from switches, keypads and keyboards to complete custom-built control panels. Founded in 1947, EAO has established a global reputation for being an expert partner for Human Machine Interfaces across a range of target industries including: http://www.eao.com/global/en/products/marketsegments/liftingandmoving/liftingandmoving.asp transportation; http://www.eao.com/global/en/products/marketsegments/machinery/machinery.asp machinery, telecommunications; http://www.eao.com/global/en/products/marketsegments/processcontrol/processcontrol.asp process control, lifting and moving and automotive.
EAO's products have been developed by world-class industrial specialists and tested to international standards. They are synonymous with EAO's reputation for creativity, innovation and excellence.
EAO's 12 specialised Sales and Customer Service Centres around the world, and a network of trained specialist agents and representatives in more than 50 countries bring experience, skill and dedication to customer projects. For more information, please visit: www.eao.com
About Marl
Marl has specialised in the design and manufacture of visible LED indication and illumination components and systems for over 35 years, to customers in the electronic, power generation, defence and telecommunications industries. Its highly trained and experienced team of over 100 design and manufacturing specialists operate from a dedicated technology park in Ulverston, England and stand ready to offer its customers a solution to any requirement. They are able to offer a range of standard products, customised to suit individual projects, or even design a specific component from scratch. Marl is a quality company. It is registered to BS EN ISO 9001:2000 standard and fully RoHS and WEEE compliant.
Photo caption: Adrian Rawlinson, Managing Director, and Gemma Birkett, Rail Sales Co-ordinator at Marl International celebrate the partnership with EAO on their demonstration train.
q1135ml
Contact
For more information, please contact: Marl International Limited, Marl Business Park, Ulverston, Cumbria. LA12 9BN, UK. Tel: +44 (0)1229 582430; Fax: +44 (0)1229 585155 Email: marketing@marl.co.uk; Website: www.marl.co.uk Press Contact: Peter van der Sluijs Neesham Public Relations Tel: +44 (0) 1296 628180 Email: peterv@neesham.co.uk
E-mail:elaineh@neesham.co.uk
Web Site:www.marl.co.uk