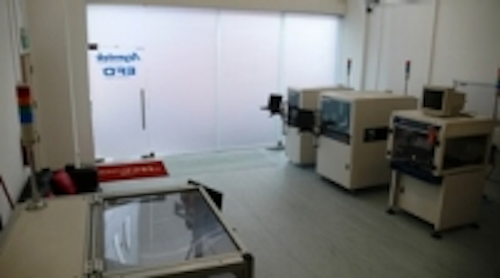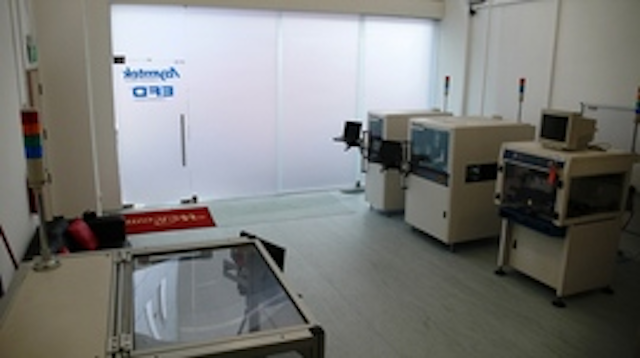 Date Announced: 15 Sep 2008
Carlsbad, CA – September 12, 2008 – Asymtek, a Nordson company (Nasdaq:NDSN) and leader in dispensing, conformal coating, and jetting technologies, announced it has expanded and moved to a new location in Singapore.
This new, larger facility includes a modern lab with a full range of Asymtek dispensing and coating equipment to support customer applications, training and process development. The move reflects the growing needs of Asymtek's customer base in the region, which includes the leading semiconductor packaging and printed circuit board assemblers in a wide range of industries.
Co-located with parent company Nordson and sister company EFD, the new facility also offers extensive on-site equipment service, product demonstrations and the latest technical data on dispensing.
Mr. N.S. Ng, Asymtek's regional business manager, is responsible for directing Singapore's daily operations and managing its staff of sales, applications and service engineers. He also oversees the region's distributor network to ensure Asymtek's customers receive products with efficiency and value-added service.
About Asymtek
Asymtek, a world leader in automated fluid dispensing, conformal coating, and jetting technologies, designs and manufactures a full line of dispensing and coating systems, supported by a global applications and service network. Recognized for its innovative equipment and excellent service, Asymtek continues to offer advanced applications for a range of industries. These include semiconductor packaging, printed circuit board assembly, LEDs, flat panel display assembly, automotive, medical/biotech product assembly, and other precision assembly processes. Founded in 1983 and acquired in 1996 as a subsidiary of Nordson Corporation Asymtek is an ISO 9001:2000 certified company. Asymtek has received numerous awards including Intel's prestigious Supplier Continuous Quality Improvement award for five years in a row: 2003, 2004, 2005, 2006 and 2007.
About Nordson
Nordson Corporation is one of the world's leading producers of precision dispensing equipment that applies adhesives, sealants, and coatings to a broad range of consumer and industrial products during manufacturing operations. The company also manufactures equipment used in the testing and inspection of electronic components as well as technology-based systems for curing and surface treatment processes. Headquartered in Westlake, Ohio, Nordson has more than 4,100 employees worldwide, and direct operations and sales support offices in 33 countries.
Contact
N.S. Ng Nordson S.E. Asia (Pte) Ltd. 26 Boon Lay Way Trade Hub 21 #01-76 Singapore 609970 or Roberta Foster-Smith Asymtek, A Nordson Company
E-mail:rfsmith@asymtek.com
Web Site:www.asymtek.com