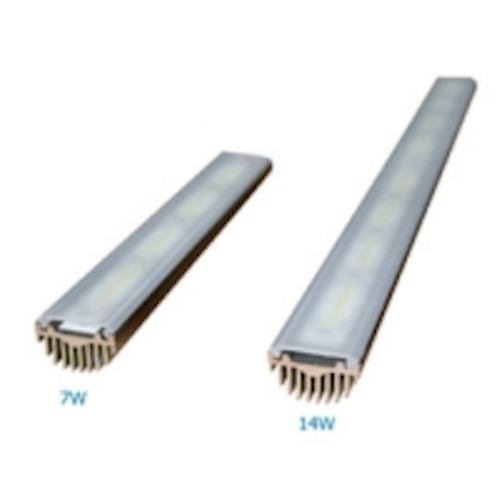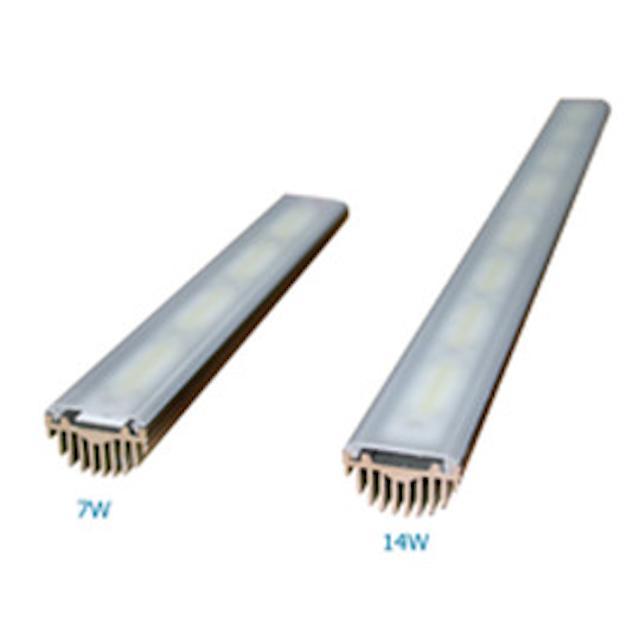 Date Announced: 17 Sep 2008
To compliment its linearly packaged EdiLine II for the growing application, Edison Opto, a Taiwan based high power LED packaging manufacture, has introduced a modular solution replacing fluorescent specialty application such as cove lighting, desk light, refrigeration lighting and display cases.
EdiLine modules provide a choice of 7W or 14W product with lumen output of 500 lm and 1,000 lm at cool white respectively. Utilizing thermally top-graded extrusion alloy, the 7W EdiLine modules is equipped with a 200mm (7.8") long heat-sink while the 14W module is equipped with a 400mm (15.8") heat-sink.
With the same tubular dimension as conventional fluorescent tube, EdiLine modules are also available with warm white and neutral white EdiLine II. This, along with a stable, highly efficient constant current driver reinforces an overall system sustainability of EdiLine module.
Features:
1. Choices of 7W and 14W module
2. Contains up to eight high flux EdiLine® II (14W module)
3. Diffusive protective cover to minimize glare effect
4. Managed thermal convection with anodized, top-graded extrusion alloy
5. Dimension: 400(L)*30(W)*20(H) mm (14W module)
6. Total efficacy >70lm/W
7. Operating ambient temperature: -20~40℃
8. Long Operating Lifespan
9. Light-weight: 140g / 280g (7W / 14W)
10. No ultraviolet or infrared radiation
11. No mercury
12. RoHS compliant
EdiLine modules incorporate the most advanced EdiLine II series and thermally optimized heatsink technologies from Edison Opto. The linear structure design results in an easier heat dissipation requirement, making versatile fixtures design possible as well as an overall cost saving benefit.
Thanks to the versatility of EdiLine II, both linear and superficial light source are easily attainable. Combined with the stable and high efficiency constant current driver, EdiLine modules are the ideal substitute for various lighting applications, such as fluorescent lamp, table lamp, desk light, commercial, and indirect illumination or decorative lighting application.
About Edison Opto
Edison Opto is a leading high power LED manufacturer and a solution provider experienced in optical design and thermal management for the emerging SSL market. With R&D headquarter in Taiwan, production capabilities in Dong Guan, China, as well as distribution network over twenty-six countries, Edison Opto offers a diverse range of high power LED products to worldwide commercial, industrial, retail, and residential markets. For more information, visit www.edison-opto.com.tw.
Contact
Jill Hsu Marketing Planning Specialist Edison Opto Corporation Tel +886 2-8227-6996 Ext.8802 Fax +886 2-8227-6997
E-mail:jillhsu@edison-opto.com.tw
Web Site:www.edison-opto.com.tw