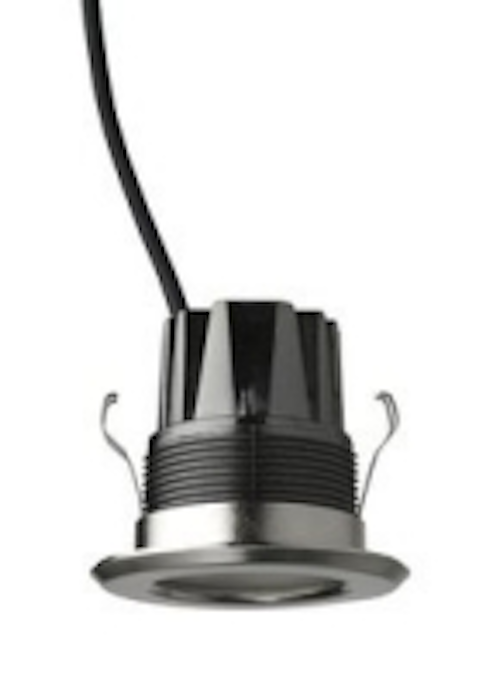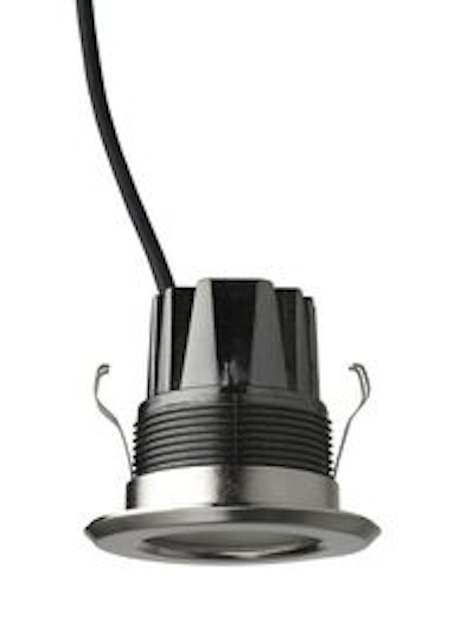 Date Announced: 11 Sep 2008
The Alien LED Downlight™ is a plug-and-play recessed LED downlight that features RGB+W color mixing and is available in a standard or high power version.
Designed for accent lighting in colored or variable white light, the Alien LED Downlight's IP67 rating means it's equally suited to both indoor and outdoor environments.
The Alien LED Downlight can be mounted on walls or ceilings and is ideal for expressive background lighting in restaurants, cafés, bars, small clubs and lounges. It is useful for wall grazing, as decorative accent lighting and niche lighting, or for bottle or product displays.
The Alien LED Downlight is also perfect for entrance lighting or orientation lighting for marking columns, aisles, walkways, steps, and architectural features.
Color Choice, True White
The Alien LED Downlight's RGB+W diodes excel at creating a broader range of hues including deep, saturated colors. The addition of the white LED gives several advantages: a true white, the ability to adjust color temperature, and the possibility to create soft pastel shades.
Colors are evenly mixed when leaving the fixture, making for an attractive looking luminaire. The Alien LED Downlight is 0-100% dimmable for balance of brightness or the ability to respond intelligently to the availability of natural light.
Design Flexibility
The Alien LED Downlight is available in two versions to cover a wider range of applications; a 9 W standard version (5 LEDs) and an 18 W high-power version (9 LEDs). Very bright when compared to other products in its class, well-known Rebel LEDs are used to ensure high performance and output as well as a high quality. Because lamp replacement isn't every 3000 or 5000 hours, no service is required other than regular cleaning.
For even greater flexibility in design, two optical systems are available, medium or wide, covering distances from approximately 0.5 to 3 meters (2 to 9 ft).
Alien Driver Unit
The required Alien LED Driver, sold separately, is a plug-and-play unit that offers great flexibility for solutions using both 9 W and 18 W fixtures. One Driver can control up to a maximum of 20 standard luminaires or 10 high-power luminaires, or a combination of the two.
Easy to Install
The Alien LED Downlight will fit into any standard MR16 hole, allowing it to blend inconspicuously into existing architecture and making it ideal as a replacement product or for new installations. Alien LED Downlights are easily interconnected by linking transformers together with standard IEC connectors.
DMX Control or Stand-alone
The Alien LED Downlight has two DMX control modes, HSI & RGBW for comprehensive control when a designer needs it. The intuitive HSI control system allows designers to control the unit in terms of color rather than only DMX levels. A stand-alone feature offers 31 pre-programmed static or dynamic sequences via the Alien Driver Unit.
Tough and Attractive
The Alien LED Downlight is made of a durable steel and aluminum construction and the IP67 rating means it's fully weather-protected. It comes with stainless steel trim rings as standard with chrome, white or brass available as accessories.
The luminaire is convection cooled so no fans or other moving parts are used. Rigorously tested and CE, ETL & CETL approved, the Alien LED Downlight is built for simplicity.
Contact
Larry Beck at Martin Professional at: Telephone: +1 719 686 0793 Fax: +45 87 40 00 10 (DK) / +1 954 858 1811 (US)
E-mail:larry.beck@martin.dk
Web Site:www.martin-architectural.com