Mitsubishi Electric flying high at Red Bull Air Race
Sep 24th, 2008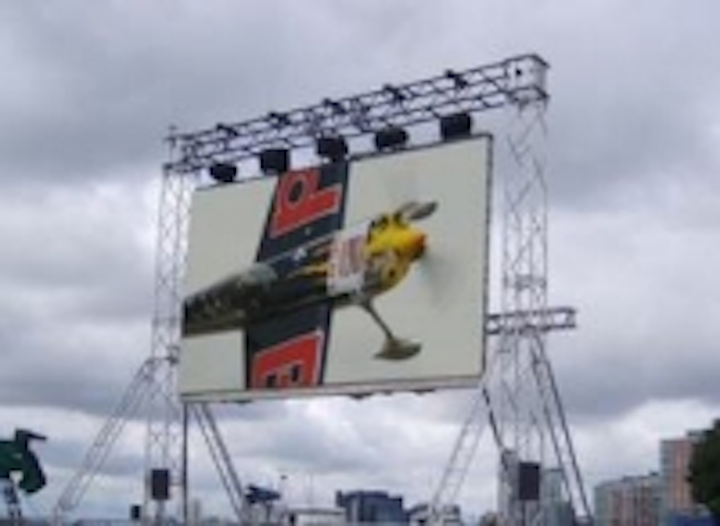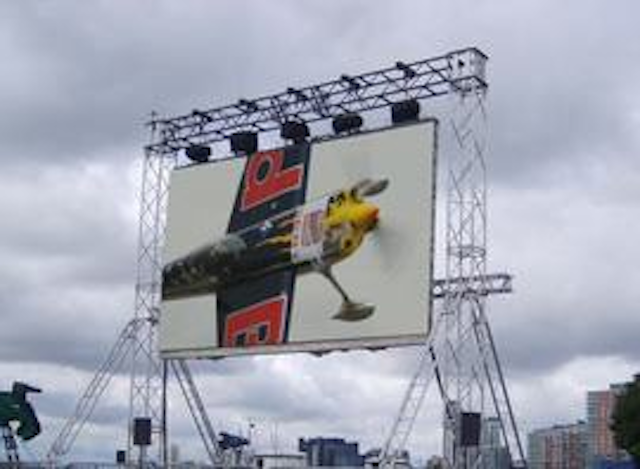 Date Announced: 24 Sep 2008
A damp and blustery British Summer did nothing to deter the 40,000 hardy Londoners who dodged the showers to witness the arrival of the Red Bull Air Race 2008 in the UK. Mitsubishi Electric Diamond Vision was on hand to make sure race fans missed none of the action.
The Red Bull Air Race is a unique aerial championship competition in which dare-devil pilots race against the clock around a course of inflatable pylons called Air Gates at speeds approaching 230 mph (370 km/h). Competition is fast and furious with the pilots performing amazing feats of aerobatic skill in their quest to win the much-coveted World Championship title. The Red Bull Air Race is a truly global event, visiting eight cities around the world over the course of the 2008 season. Mitsubishi Electric provides the big screen video systems for all the venues.
The London leg of the championship took place in August over the Thames at Greenwich; the 0² arena and Canary Wharf providing the dramatic backdrop for an incredible dual between the world's top race pilots. Mitsubishi Electric provided a total of five ODQ10 10mm screens – a single 43m² system and four 25m² screens – around the public and hospitality areas of the course.
Mitsubishi Electric managing director, Steve Halliday, says, "We've provided screens for the Red Bull Air Race World Championship for a number of years. Each of the venues is very different and each one presents us with logistical challenges. In Abu Dhabi, for example, the screens are floated into the harbour on barges; in Budapest, we suspend them over the river on giant cranes. The crew have to be quite adaptable, but we have a big advantage in that the Diamond Vision system is very versatile and can be assembled into different configurations very easily."
Mitsubishi Electric Diamond Vision is no stranger to delivering the big pictures in challenging conditions. Along with its global services to the Red Bull Air Race World Championship, the company also provides the screen systems for the Audi World Cup Skiing – a series of events that requires the company to install and operate big screens in the most arduous and inaccessible locations imaginable.
But no such problems for the Red Bull Air Race crew this month; The next race in the series takes place in sunny Perth, Australia. "We're hoping the weather will be a bit better than London," noted a wry crew member.
Contact
Steve Halliday Managing Director Mitsubishi Electric Europe Diamond Vision Unit 13, Crayfield Industrial Estate Main Road, St. Paul's Cray Orpington, Kent, BR5 3HP United Kingdom Tel.: +44 (0)1689 896466 Fax: +44(0) 1689 896085
E-mail:mitsubishi@eido-pr.eu
Web Site:www.diamondvision.nl