Aquallusion designs custom light display at new Lucas Oil Stadium
Sep 23rd, 2008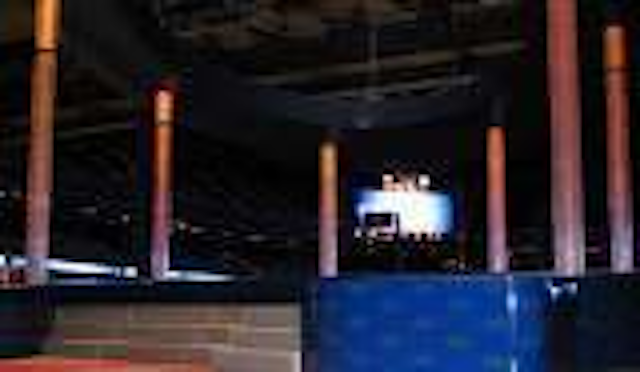 Date Announced: 23 Sep 2008
--This entertainment lighting company has created "giant fountains of oil" for this Indianapolis stadium.--
Aquallusion Design Concepts LLC, an entertainment lighting and visual display company, recently completed a custom light installation for Lucas Oil Products at the new Lucas Oil Stadium in Indianapolis, Indiana.
The project required Aquallusion Design Concepts to create six "Aquallusion" columns, as high as 20 feet, which appeared to contain flowing oil. Instead of using water or other liquids – which increase expense and maintenance – the Aquallusion design utilizes an air flow system, LED lighting and optical lenses to create flowing, bubbling effects.
The columns were part of a horseshoe-shaped stage at Lucas Oil Plaza in Lucas Oil Stadium, which is the new home of the Indianapolis Colts and will also be used for major shows and events.
"We were happy to find an innovative company that could create the illusion of flowing oil without having to use liquids," said Brian Smith, business development director, Lucas Oil Products. "Aquallusion's product is virtually hassle and maintenance free, and was a cost-effective and high-impact solution for us."
"We had fun formulating an exact match to the color and motion of oil," said Dave McKnight, president of Aquallusion Design Concepts. "We were thrilled to be involved in such a high-profile project."
Orlando, FL-based Aquallusion Design Concepts designs and manufactures contemporary lighting fixtures featuring LED lights, color and motion. They specialize in Aquallusion displays, lava lights and wall fountains used for architectural lighting, commercial lighting systems, retail display lighting, visual merchandising, night club lighting and for home theater, trade show and exhibit designs, museums, arcades, cruise ships and theme parks.
Contact
Gen Cole Marketing Manager AquaLLusion Design Concepts LLC 1832 S. Division Avenue Orlando, FL 32805 407-841-7898 or 866-656-0069
E-mail:gen@aquallusion.com
Web Site:www.AquaLLusion.com