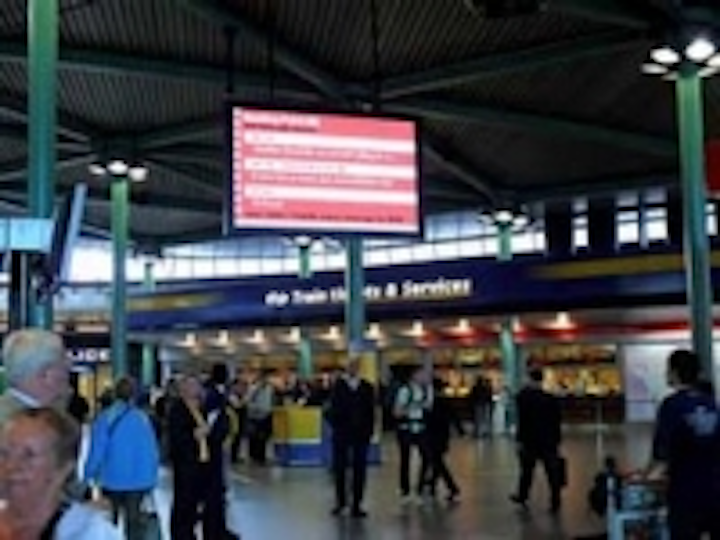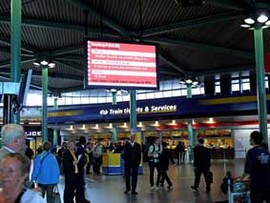 Date Announced: 16 Sep 2008
The Netherlands – 16 September 08 - With nearly 48 million passengers passing through each year, Amsterdam Airport Schiphol is a major hub serving the Dutch capital of Amsterdam and is Europe's fifth busiest airport. With thousands of departures and arrivals from right across the globe, effective communication is extremely important. This is why a third large format Lighthouse LED screen has recently been installed in Schiphol's main arrivals hall.
Being hung five metres above a designated meeting point dubbed the Digital Meeting Point, the 5 x 5 panel (3.2 x 2.4m), P10 screen was installed by leading Dutch systems integrator Hecla Professional Audio & Video Systems BV.
A Lighthouse LED screen was chosen as the ideal solution for Schiphol due to size requirements as well as its ability to cope with the high ambient light levels in the arrivals hall. The P10's 10mm pixel pitch provided the perfect resolution for the resulting viewing distance.
The screen pioneers a new and efficient method of airport communication – a text message service – with installation and running of the screen financed by commercials.
"We have pioneered a new application for the LED screen," says Hecla's new business manager, Jos den Hartog. "An easy to use messaging system that allows a text message to be sent, which will then be displayed on the screen.
"For example, if someone is meeting a relative off a plane which is delayed, the passenger can text where and when to meet them and the person meeting them will get the message via the screen."
This is an additional service to the traditional method of leaving notes at the meeting point, with SMS messages being displayed for a fixed amount of time.
To avoid the system being abused, Hecla has a human 'interface' who vets the text messages and uploads only messages that pass the censoring system 'live' into the screen software.
With a Lighthouse LIP-DX processor controlling the screen, the advertising content is fed from the Amsterdam's Schiphol Airport media team, but Hecla maintains overall control remotely from its offices in the Dutch town of Hengelo.
"Sending a text to the system is a bit more expensive than a normal text message because the airport wants to prevent people like cab drivers putting ads up there," says Jos. "They want it to provide a genuine service for passengers, rather than become a giant LED small ads service".
"We have a very good relationship with Schiphol's media team and they are very satisfied with the extra screen. It's bringing a new and exciting dimension to the airport's passenger facilities."
About Hecla:
Hecla Professional Audio & Video Systems B.V. was founded in 1969. 40 Years of experience is used daily to assist clients with the purchase or rent of professional audio and video systems. This renown Dutch company delivers turnkey installations for professional audio and video systems, with more than 50 employees working on the sale and installation of AV systems in boardrooms, meeting centres, class halls, editing rooms and studios.
Audio, video, projection and ICT specialists organize AV projects for fixed installations or temporary events, such as parties, sports events, presentations, exhibitions and conferences: the company has every speciality in-house.
Together with its customers, Hecla is able to realise technological, high-quality, efficient solutions, that satisfy their wishes and demands.
Hecla's clients are Dutch business, ministries and municipal authorities as well as civil services, such as fire departments and police.
Hecla provides many innovative and functional solutions across the Netherlands, such as the LED screen with an innovative messaging system in the main arrivals hall at Amsterdam's Schiphol Airport.
Hecla Professional for a perfect performance.
For more information please visit www.hecla.nl
~END~
Lighthouse Technologies Limited is a leading LED technology developer, manufacturer and global supplier of state-of-the-art LED modular video panels, which can be assembled into large scale video screens for indoor and outdoor use. It also produces a range of creative video solutions that have a multitude of applications.
Specializing in the research and manufacture of LED products, Lighthouse has its own intellectual properties with a remarkable number of active patents worldwide and is committed to remaining the premier creator of intellectual property values.
The company's LED components, panels and complete video systems undergo stringent quality control with power-on, burn-in processes at ISO9001 and ISO14001-certified manufacturing plants.
From the company's inception, Lighthouse products have won numerous international awards, from the prestigious Consumer Product Design Award and the HKITCC Certificate of Merit in Technological Achievement in the 1999 Hong Kong Awards for Industry, to Buzz of the Show award at InfoComm 2004 in Atlanta and 2005 IBC Exhibition Design Award. Most recently, Lighthouse was selected as a Top 100 Global Award Winner by Red Herring Magazine.
Lighthouse operates on a global basis, but knows the importance of understanding its local markets. It has sales offices and technical support teams in the United States, South America, the United Kingdom, Continental Europe, the Greater China and Asia Pacific. For more information, please visit www.lighthouse-tech.com
Contact
Sarah James Gasoline Media Limited
E-mail:sarahj@gasolinemedia.com
Web Site:www.lighthouse-tech.com