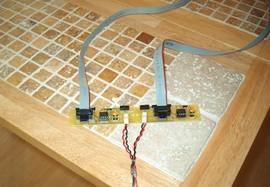 Date Announced: 10 Nov 2008
Joe Simiriglio Jr, President of Frontier EMSI, is now offering the Frontier LED KIT to any company seeking to market a low cost LED KIT with the unique feature of separate electronics from the LED's. The Frontier LED KIT, consists of a Controller Board which controls up to 16 LED's (3 MM & 5MM), allowing for flexibility in LED Board design.
For Example: A company designs an advertising display for a specific product. After the campaign is over, the agency is asked to design a new display using the LEDs. With the LED control electonics on a separate board, the contoller board is reused, and all the agency needs to do, is have a new LED PCB layout and boards stuffed with the LEDs in the new design layout.
Frontier is offering all Gerber files (PCB), component lists. A Licensing fee plus royalty fee will apply. The offer is not restricted, all parties interested in the product are welcome.
Should a company consider becoming a Sole Source on the Frontier LED KIT LINE, a proposal must be sent to: Frontier 117 Mt.Vernon Court., Deptford, NJ 08096.
Contact
Joe Simiriglio Jr. Frontier (EMSI) Ph: 856-848-7300
E-mail:frontier22@aol.com