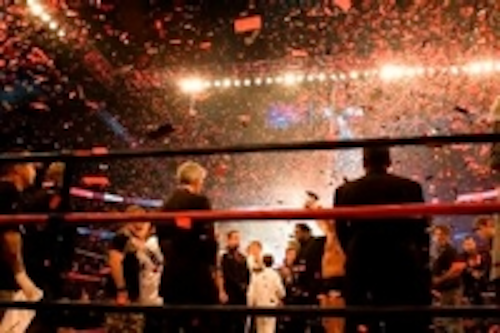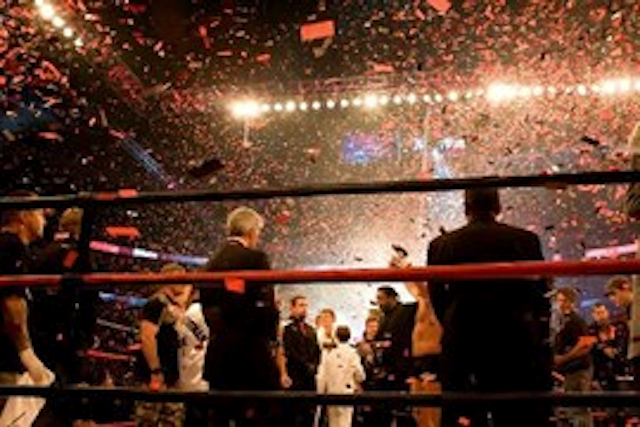 Date Announced: 03 Nov 2008
Affliction Entertainment has burst into the mixed martial arts scene with an edgy and rock influenced style. To create the look and feel for the inaugural event Affliction Banned, Innovative Show Design (ISD) devised a lighting concept that would enhance and reflect the trend-setting Affliction clothing brand.
28 PixelPar 44s featured on the immense lighting rig as truss warmers. ISD's lighting designer, Justin Garrone explains: "For warming truss we primarily use PixelPars or PixelArcs. I like these fixtures because of their low profile, which allows us to fit them into tight spaces. Also, a really nice feature of the PixelRange products - is the ability to spec a fixture that either has the brain attached or a brain that rides separately."
Garrone continues: "If I am lighting a drape or a cyc - I like using the PixelLines. The option to put different degree lenses on the fixtures expands the possibilities of how we can control the light output. And obviously, the ability to get endless colors out of one fixture is a great and cost effective solution. Since working in television, I have noticed that when you start dimming LEDs, the cameras can pick up their strobing effect. With PixelRange products, I have never had this problem."
The spectacular Affliction Banned show featured distinguishable looks for each fighter – created using different colors and lighting effects, as well as custom designed media. And to reflect the essence, look and feel of what the Affliction brand represents – shooting beams of light from interesting angles, complemented by warm saturated colors washing the audience and the trusses – projected a trendy, rock influenced atmosphere. Heavy metal legends Megadeth also performed live.
PixelRange luminaires feature heavily in ISD's designs, from PixelPars for truss warming through to PixelLines for color washing drapes or cycs. ISD is involved in all genres of the entertainment industry - television productions, corporate events and live theater. Each show is unique and the lighting rig carefully specified to deliver the desired effect. ISD's use of cutting–edge technology, combined with great attention to detail, has made Innovative Show Design a leader in the industry – and the top choice of some of the largest production companies in the world.
The Affliction Banned ISD team was led by artistic director Christopher Runnells, lighting designer Justin Garrone, media artist Nate Mitchell and project manager Mark Dowling. Lighting programmers John Lotz, Brandon Webster (Megadeth) and Maxedia programmer Kevin Swank. Master electricians Chris Good, Sandy Kittisit, Chris Wagner, Chad Hannah and Steve Elliott. And we cannot forget about trucker George "Tom" Fountain. The lighting was supplied by CYM Lighting Services.
Photograph © Innovative Show Design & Affliction Entertainment
Contact
Jane Monk MonkeyBiz Limited The Elms, 11 Sand Street Soham, Cambs CB7 5AA United Kingdom T: +44 (0)1353 624949 www.monkey.biz
E-mail:janemonk@monkey.biz
Web Site:www.pixelrange.com