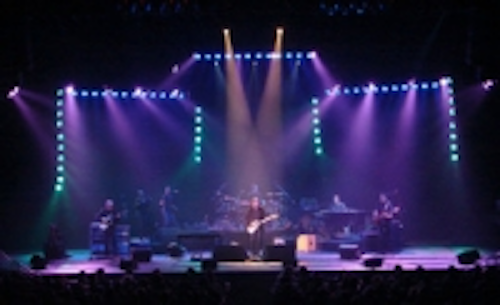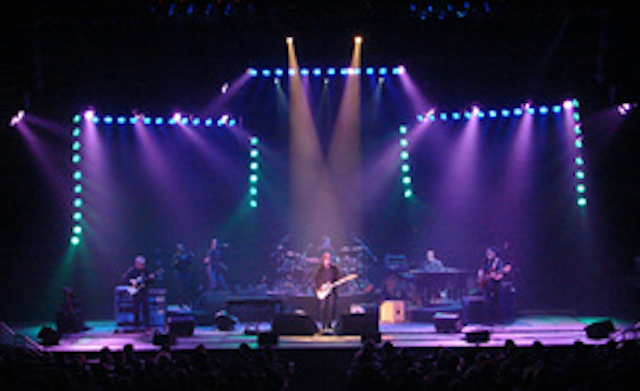 Date Announced: 18 Nov 2008
LOS ANGELES – Jackson Browne launched his 2008-2009 world tour in support of his first album of new material in six years, Time The Conqueror. But the LP's critically acclaimed tracks aren't the only new thing in the singer-songwriter's show -- the current tour marks the first time that Browne is using LED lighting on his stage.
Lighting director Dave Davidian put together a rig that includes 20 Elation Impression LED moving heads and 180 American DJ 64B LED Pro par cans. According to Davidian, Browne himself was "pivotal" in the decision to switch to LEDs.
"Jackson was very pro-active in looking for LEDs, because he's a very green-oriented person," said Davidian, who has worked for Browne since 1990. "He felt this would be a way to save power and do the right thing as far as his beliefs were concerned. For myself, I was curious about LEDs too."
Davidian selected products from Elation and its sister company American DJ on the basis of recommendation from his supplier, Bandit Lites. "I have a lot of faith in Bandit. They suggested Elation as the way to go, because the products have both economy and integrity built into them," he said.
An extremely compact DMX moving head with RGB color mixing, the Impression utilizes 90 high-power Luxeon K2 red, green and blue LEDs to produce a light output equivalent to a 575W discharge fixture - at a 50% lower energy consumption. Weighing just 16 lbs. and small enough to be mounted on a 14-in. center, the Impression offers an amazing output-lumen-to-physical-weight ratio. Its compact moving mass and state-of-the-art stepper motors give it great speed and range, with the capability of reaching 660° pan in 2 seconds and 300° tilt in 1 second.
The American DJ 64B LED Pro par can, also featuring RGB color mixing, is a big energy saver as well. Powered by 181 10mm red, green and blue LEDs, its output is as bright as a par 64 halogen lamp, yet it draws only 30W of power. Both the Impression and 64B LED Pro have very low maintenance requirements, since their LED lamps last for 100,000 hours under normal operating conditions. Additionally, both LED fixtures are performer-friendly, emitting almost no heat onto the stage.
Along with their energy savings and other user benefits, the Impression and 64B LED Pro fit perfectly into Davidian's lighting gameplan for the Jackson Browne show. The artist's set is relatively simple in design, and the LD's primary goal was to "get a variety of different angles of light on Jackson – to get light sources at vertical and horizontal angles and different heights, so that I could make the most of a small physical system and create as many layers and angles of light as I possibly could."
To do this, Davidian constructed a rig with two upside down "U" truss configurations, one on each the left and right rear of the stage, with a straight bar of truss in the center between them. The trussing is lined up and down the sides and across the top with nearly 200 64B LED Pro par cans. Using so many cans provides "strength in numbers," said Davidian, a design made viable in part by the 64B LED Pro's low power draw and low heat production.
The 20 Impression moving heads serve as backlights and sidelights. "The brightness of the Impression is fantastic," said Davidian. "The colors are stunningly beautiful – better than dichroic – and they do some great color dissolves." Additionally, the movement of the Impressions helps achieve his goal of having "as much flexibility with angles and light source points as possible.
With their compact size and light weight, the Impressions also serve to make life easier on a rigorous tour, which after completing its first U.S. leg, is heading overseas to Japan, Australia and Europe. "The Impressions are easy to transport and setup, and very reliable" said Davidian, adding, "Jackson thinks the lighting looks great. All the comments from both people and the press have been very positive about how the show looks."
Contact
Elation Professional Ph: 866-245-6726 Lighting designer Dave Davidian Ph: 818-262-0994 Email: DDavidian@aol.com Bandit Lites Ph: 615-641-9000 www.banditlites.com
E-mail:christine@fucinipro.com
Web Site:www.elationlighting.com