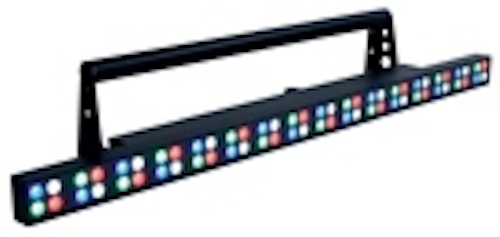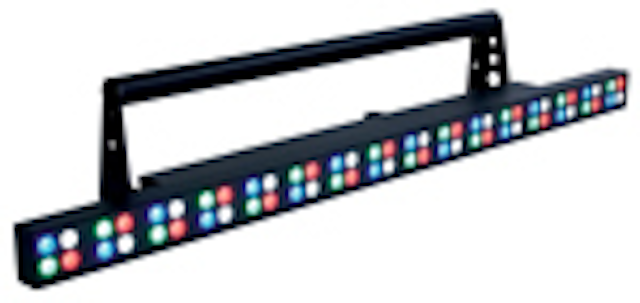 Date Announced: 04 Nov 2008
LOS ANGELES –Elation Professional takes the wishy-washy out of LED strip color washes with its new high-performance ELED Strip RGBW. A high-output RGBW bar, the ELED Strip RGBW shoots an intense wash of vivid color across walls and other large surfaces with a powerful array of 60 1W LEDs (15 LEDs each red, green, blue and white).
Designed for wall washing and other long throw applications, the ELED Strip RGBW measures 40" long and has a beam angle of 40° x 80°. One of its special features is a new asymmetrical optic system that produces a flat linear beam of light, as opposed to the less-focused circular-like patterns created by many LED strips. Because of the greater focus and concentration of its beam, the ELED Strip RGBW will produce a noticeably more even-toned and robust color wash when projected on a wall or running length of a surface.
"To be an effective wall wash, an LED strip should produce a concentrated line of light, but this doesn't happen with some LED strips, which tend to spill light all over the place," said Eric Loader, director of sales for Elation Professional. "We wanted to avoid this problem with the ELED Strip RGBW, so we developed a special optics design that gives you a really nice flat, concentrated beam of light. This linear beam produces a really efficient wash – it's great for throwing color evenly over a large area. It is also great as a floor light for front wash or direct view effect."
Another feature that enhances the ELED Strip RGBW's performance is the addition of white LEDs to the RGB mix. The white LEDs make the colors appear more vibrant and balanced, eliminating the pinkish tone that sometimes occurs during RGB color mixing when creating white, and helping to create brighter pastel colors as well.
Used with a DMX controller, the ELED Strip RGBW can create an infinite palette of additive RGB colors. It offers 4-zone control of the LEDs, and it can be run in 6 DMX modes, giving operators different levels of control of its various functions, including 0-100% electronic dimming.
The ELED Strip RGBW can also be operated without a DMX controller in Auto and Macro Modes. The unit includes an easy-to-navigate LCD display that lets users quickly run through the menu options and adjust DMX settings.
The ELED Strip RGBW is ideal for architectural, church, stage, trade show, special event and display applications. Along with RGB color mixing, its LED technology offers many benefits that today's lighting users demand, including remarkable energy efficiency. Despite its bright output and long throw coverage, the ELED Strip RGBW consumes only 140W of power, enabling users to save big on electricity costs. It's also low on maintenance, because its long-life LEDs rarely need replacing. Low heat generation is another big advantage of LEDs, keeping the temperature in a building or venue cooler and more comfortable.
The ELED Strip RGBW comes with a built-in multi-voltage power supply with an AC link. An integrated floor stand/mounting bracket is also included with the unit, providing flexible positioning options. The ELED Strip RGBW measures 42" long x 7.2" wide x 6.3" high, and weighs 10.5 lbs. ETL approval pending.
The MSRP of the ELED Strip RGBW is $1,299.95.
Contact
For more information, call Elation Professional toll-free at 866-245-6726 or visit www.elationlighting.com
E-mail:info@elationlighting.com
Web Site:www.elationlighting.com