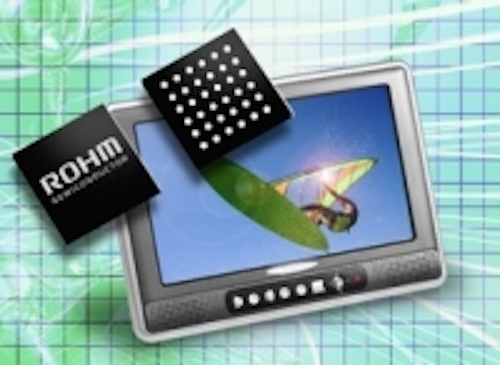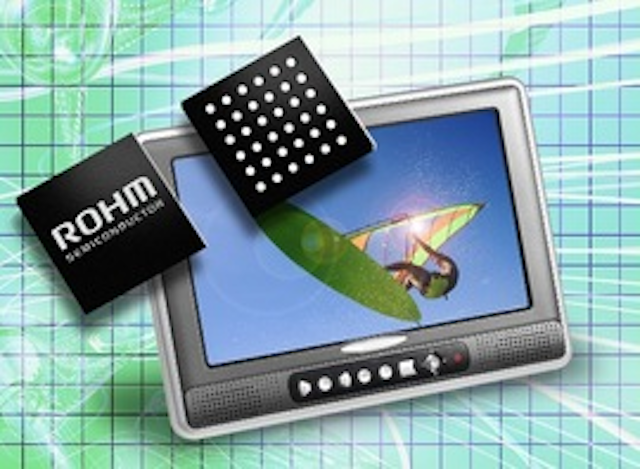 Date Announced: 20 Nov 2008
Willich-Münchheide/Munich, Germany- Nov. 11-14, 2008 ─ ROHM Electronics showcased its new LED driver IC series BD6095GUL for LCD backlights at electronica in Munich (Hall A5, Booth 542). The BD6095GUL provides optimized viewing with low power consumption through ROHM's industry wide unique double dimming function adjusting brightness based on image content and ambient conditions. The backlight dimmer is I/F compatible with analogue output sensors including an integrated I2C bus interface.
Key Features
- Backlight dimmer
- I/F compatible with analogue output sensor (linear/logarithmic output)
- Gain control function with wide light measurement range built in
- Customizable register settings based on the current adjustments curve for brightness
- Backlight adjustment function linked with video display based on external PWM control
- Integrated I2C bus interface
- LED driver (BD6095GUL)
- High efficiency inductorless operation with x1.33 mode charge pump step-up circuit
- 5-lamp (max.) backlight drive capability for high brightness, large screen LCDs
- Built-in LED driver for Flash
- Integrated 2ch regulator (16-step switching)
- Integrated I2C bus interface
ROHM's new LED Driver ICs is ideal for deployment in applications such as consumer, portable, multimedia, communication, car navigation and entertainment systems or kiosks.
About ROHM
ROHM - a name which stands for quality in electronic components in Germany, Europe, and world-wide. Over 20,000 employees produce a wide range of internationally marketable products, such as integrated circuits, diodes, transistors, resistors, capacitors, display units, and special designs, in state-of-the-art manufacturing plants in Japan, Korea, Malaysia, Thailand, the Philippines and China. We serve the central European market, North Africa and Russia with a staff of 145 in our sales locations all over Europe. For further information please contact www.rohmeurope.com.
Contact
ROHM Electronics GmbH Elmar Leson Karl-Arnold-Str. 15 D-47877 Willich-Münchheide Germany Phone: +49 2154 921 0 Fax: +49 2154 921 400
E-mail:elmar.leson@de.rohmeurope.com
Web Site:www.rohmeurope.com