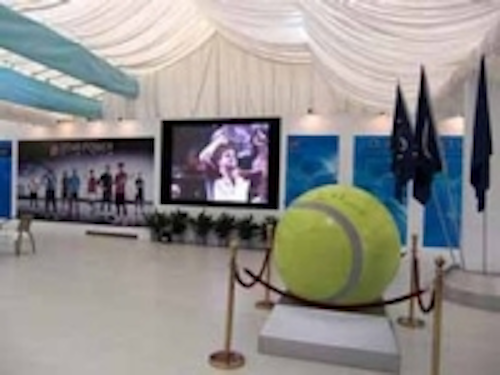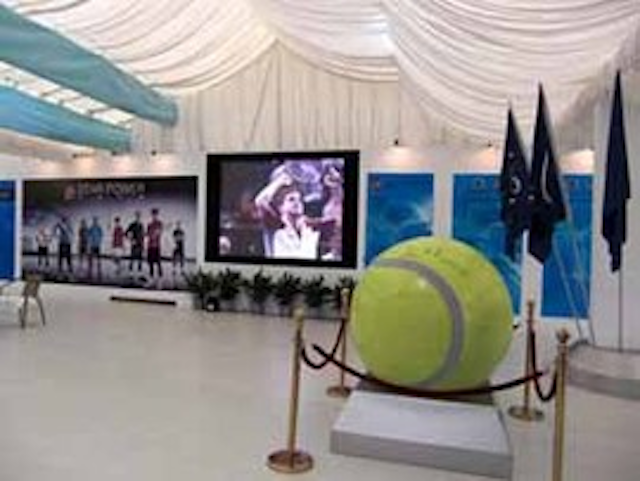 Date Announced: 11 Nov 2008
November 11th 2008, Shanghai, China – The Tennis Masters has returned to Shanghai from November 9th – 16th, the leading global LED display solutions provider Lighthouse Technologies (Lighthouse) is providing Qizhong Stadium with nearly 40 m2 of R4 4mm LED screens to bring more viewers closer to the action than ever before.
Being one of the most prestigious tennis tournaments in the world, the Tennis Masters bring together eight of the world's best tennis players for a series of intense round-robin matches to determine the champion, and Lighthouse is playing an important role in elevating the experience. In fact, Lighthouse LED panels are appearing at more and more sports venues around the world, indicating the increasingly important role Lighthouse and its LED technologies are playing in the world of sports.
"The Macau and Bahrain Grand Prix, Rugby Sevens in Hong Kong, stadiums in US, Australia, Italy, Denmark, Holland, Austria and London just to name a few, as well as the famous Lord's Cricket ground in London have all been excellent examples of how Lighthouse LED screens are creating dramatic impact at major sporting events around the world," said Peter Chan, general manager of Lighthouse Technologies. "We are also extremely proud to be the LED screen provider for the 2008 Tennis Masters. The R4-S screens we have installed at Qizhong Stadium reflect our continued commitment to making sports more exciting and accessible to sports fans everywhere."
The R4-S panels were chosen for this event because of their ultra-fine 4mm pixel pitch, 2,000 nits brightness, wide viewing angles and a redesigned casing that makes each panel lightweight and extra slim, meaning installation and integration is an extremely straightforward process. Because they incorporate a fanless design, they're an excellent choice for indoor installations as well.
LED display technology continues to spread throughout China, Asia and the rest of the world as customers realize the significant value it adds to virtually any venue. Lighthouse has always been a key innovator in the field, and looks forward to joining hands with more Chinese and global clients to deliver the best possible video display solutions to sports stadiums, concert halls, shopping centers and office buildings around the world.
~END~
Lighthouse Technologies Limited is a leading LED technology developer, manufacturer and global supplier of state-of-the-art LED modular video panels, which can be assembled into large scale video screens for indoor and outdoor use. It also produces a range of creative video solutions that have a multitude of applications.
Specializing in the research and manufacture of LED products, Lighthouse has its own intellectual properties with a remarkable number of active patents worldwide and is committed to remaining the premier creator of intellectual property values.
The company's LED components, panels and complete video systems undergo stringent quality control with power-on, burn-in processes at ISO9001 and ISO14001-certified manufacturing plants.
From the company's inception, Lighthouse products have won numerous international awards, from the prestigious Consumer Product Design Award and the HKITCC Certificate of Merit in Technological Achievement in the 1999 Hong Kong Awards for Industry, to Buzz of the Show award at InfoComm 2004 in Atlanta and 2005 IBC Exhibition Design Award. Most recently, Lighthouse was selected as a Top 100 Global Award Winner by Red Herring Magazine.
Lighthouse operates on a global basis. It has sales offices and technical support teams in the United States, South America, the United Kingdom, Continental Europe, the Greater China and Asia Pacific. For more information, please visit www.lighthouse-tech.com
Contact
China Lighthouse Media Contact: Rita Ng/Molly Liu Waggener Edstrom China Tel: (86 10) 5900 1335/(86 10) 5900 1014 E-mail: ritan@waggeneredstrom.com / mliu@waggeneredstrom.com
E-mail:info@lighthouse-tech.com
Web Site:www.lighthouse-tech.com