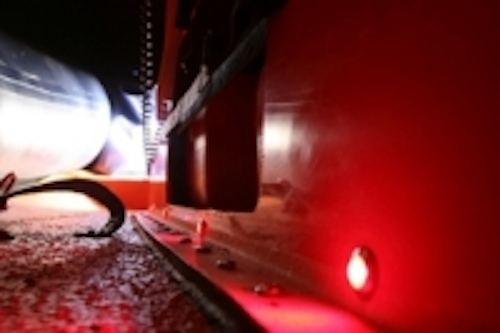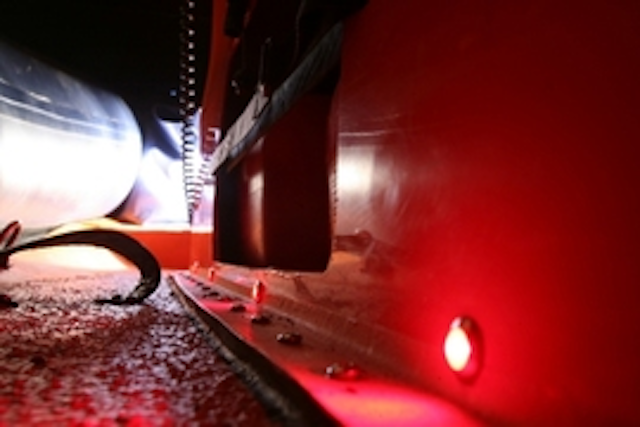 Date Announced: 24 Nov 2008
Ulverston, UK, 24 November 2008. Robust, waterproof LED lights donated by Marl International have been installed on the deck of a Ulverston Inshore Rescue craft to ensure it's easily located even in extreme weather conditions.
Marl's 699 series metal panel LEDs have been fitted to the deck of the Humber Rescue RIB, one of the craft which provides support and rescue to visitors and residents of Ulverston and the surrounding areas. These LEDs were chosen for their high optical performance, outstanding reliability, and resistance to shock, vibration and salt water due to internal potting and sealing specifications in excess of IP67. Numerous colour options are available, but red was chosen to be easily detected yet not to cause any interference with the night vision cameras which are used in night-time rescues.
Bruce Chattaway, Station Officer of the Ulverston Inshore Rescue Team said, "We are very grateful to Marl for donating and fitting these LEDs. We can be out in any kind of weather, day or night in an emergency and locating the rescue craft over the vast and rugged areas we cover is not always easy. Our 14 strong rescue team are all volunteers and we rely on donations and fundraising events. The support of local companies is appreciated as it makes our jobs that bit easier and safer."
"We have great respect for the Ulverston Inshore Rescue team and were pleased to be able to help in supporting their efforts as they provide an invaluable service," said Adrian Rawlinson, Managing Director, Marl International. "This project required a product that can stand up to the extreme conditions and LEDs were the ideal solution, and due to their waterproof ruggedness and longevity, they will help out for many years and rescues to come."
About Ulverston Inshore Rescue
Ulverston Inshore Rescue was set up after many tragedies on the dangerous Morecambe Bay Sands. It was started 5 years ago and has 14 volunteers, who are under the training competencies of HM Coastguard / Barrow learning basic first aid, knotting, map reading, compass work, radio communications, seamanship, and all other aspects of safety at sea and around the coast. The Base itself is situated near canal foot in Ulverston on land kindly donated by GlaxoSmithKline and consists of one portacabin office and four container vessels. The portacabin is used for meetings and training and the operations room in the event of an incident. For more information, please visit: http://www.ulverston-inshore.co.uk/
About Marl
Marl has specialised in the design and manufacture of visible LED indication and illumination components and systems for over 35 years, to customers in the electronic, power generation, defence and telecommunications industries. Its highly trained and experienced team of over 100 design and manufacturing specialists operate from a dedicated technology park in Ulverston, England and stand ready to offer its customers a solution to any requirement. They are able to offer a range of standard products, customised to suit individual projects, or even design a specific component from scratch. Marl is a quality company. It is registered to BS EN ISO 9001:2000 standard and fully RoHS and WEEE compliant.
Photo caption: Marl International have donated and installed red LEDs to the Ulverston Inshore Rescue Team to provide easy location of the rescue craft, even in extreme weather. Photo credited to Louisa Wilson / Stuart Roy Clarke
r0715ml
Contact
For more information, please contact: Marl International Limited, Marl Business Park, Ulverston, Cumbria, LA12 9BN, UK. Tel: +44 (0)1229 582430; Fax: +44 (0)1229 585155; Email: marketing@marl.co.uk; Website: www.marl.co.uk Press Contact: Peter van der Sluijs Neesham Public Relations Tel: +44 (0) 1296 628180 Email: peterv@neesham.co.uk
E-mail:marketing@marl.co.uk
Web Site:www.marl.co.uk