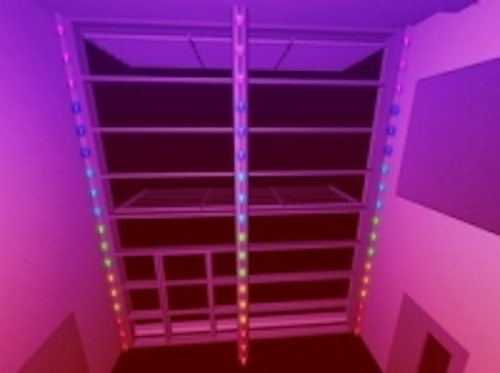 Date Announced: 25 Nov 2008
Artist Peter Freeman has installed a temporary light exhibition named Reflexive that uses Dialight's high-powered LINKLED K2 LED light engines. The three custom LED strips run floor-to-ceiling on the glazed façade and its central column at the Crafts Study Center at the University for the Creative Arts, Farnham, UK.
These engines control and mix 30 different color maps created from photographs and drawings of color combinations made at different times of day and under varying weather conditions. The maps are programmed into a DMX controller connected to barometric and proximity sensors. Every three minutes the controller scans the barometric sensor and uses the atmospheric pressure feedback data to adjust the color of the lights. A proximity sensor by the front entrance also changes the color of the lights in response to passing pedestrians.
"Combining LINKLEDs and flare lenses created a fantastic effect," Freeman said.
Reflexive uses sensuous LED light, fluid color and interactivity to redefine the Crafts Study Centre by illuminating the double height glazed atrium in a contemporary animated light.
"It is a great privilege for me to create an installation for the Crafts Study Centre because of my professional connection to craft practice. It is also an exciting opportunity to realize a new installation developing themes in my current work exploring art and the built environment," said Freeman.
By bathing the atrium in a brilliant animated light, Reflexive transforms the architectural form to create a visual expression of the inner spirit of the Crafts Study Centre and its archive of artist craft production including an important collection of Leach pottery.
Facing inward, the work becomes the illuminated space with no direct glare from the LEDs. There are five separate control circuits creating five levels of horizontal color from floor to ceiling. The LEDs are also fitted with 2 degree by 120 degree flare lenses that spread the light in narrow horizontal beams. These create soft stripes of intense color like a magical wall of light.
As a modular plug-and-play system, Dialight's LINKLED K2 LED light engines are suited for flexible design in curved or unusually shaped areas. With the RGB controller/driver, an infinite number of colors can be produced for any application requiring dynamic color changing efficiency, long life and flexibility in size and shape of light source. Flare lenses further enable horizontal distribution up to 80 degrees as demonstrated in the Reflexive installation.
The light installation will run until March 28, 2009 and is visible from the outside of the Centre on Tuesday to Saturday, 4:30 to 9:30pm.
The University for the Creative Arts has 6,000 students from 76 countries studying courses in fashion, graphics, design, media, fine art and architecture.
About Dialight
Dialight plc is leading the lighting revolution for industrial users across the world. Applying leading edge LED technology it produces retro-fittable lighting fixtures designed specifically for hazardous locations, obstruction lighting, traffic and rail signaling to vastly reduce maintenance, save energy, improve safety and ease disposal. Versions of these high specification luminaires are also produced for more general industrial and outdoor situations. The company is headquartered in the UK with operating locations in the UK, USA, Germany and Mexico.
Contact
Christine Gupta Ph: +44(0)131 476 3966
E-mail:Christine@guptapartnership.com
Web Site:www.dialight.com