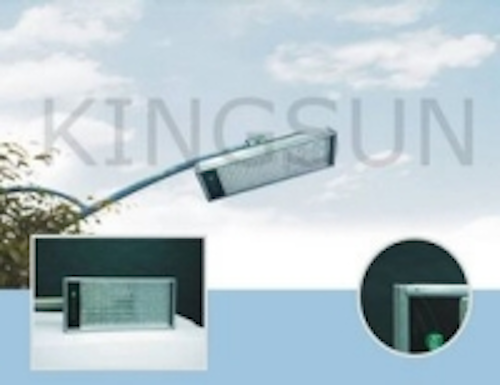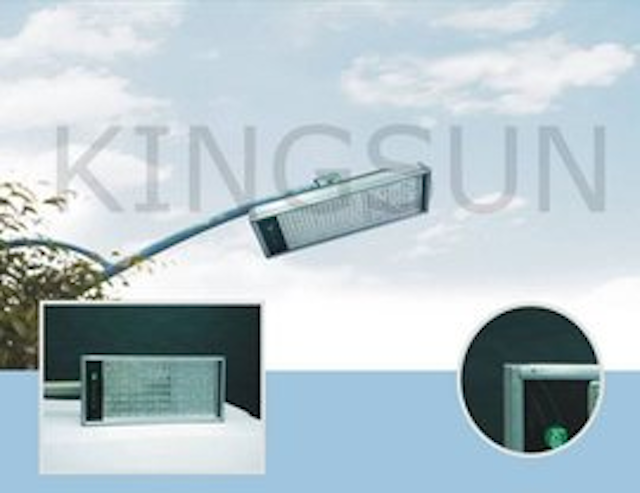 Date Announced: 19 Nov 2008
Kingsun's second-generation street light is a combination of all LED light features; economical, green, environmentally friendly and having long lifetime.
Applied with the best light source-LED, it attains over 90lm illumination efficiency accelerated by Tsinghua University's unique quadric lens, which reflects the light onto the road with the maximum effect and forms a rectangular light spot, where the illumination uniformity is over 0.65. The entire light is made of aluminum alloy with high index of heat dissipation.
Powered at AC board voltage and input with stable and constant current drive, which can provide over/less-flow voltage protection. Meanwhile, the light is designed with a respiratory system to ensure the dust resistance, water resistance and self cleaning ability.
Features
• Top light source-LED
• Energy saving, environmentally friendly, lifespan over 10 year
• Heat sink made of aluminum alloy which has the best heat conductivity
• Applied with patented quadric optics non-imaging lens, luminous efficiency over 90%
• Adjustable lampshade angle creates flexible lighting scope
• Better seal performance up to IP66
• Easy installation and maintenance
• National-wide various invention patents
Power supply
Input voltage: AC 170-250V, 50-60Hz or AC 120-277V, 50-60Hz
Output voltage: DC53V
Installation
Connected to 60mm-diameter arm
Contact
International Business Dept. Kingsun Optoelectronic Co., Ltd Heng Jiang Xia Administration Zone Changping Dongguan, Guangdon, China Tel:(86)769-83395677/8 ext 607 Fax:(86)769-83395679
E-mail:ks_sales15@kingsun-china.com
Web Site:www.globalmarket.com/kingsun