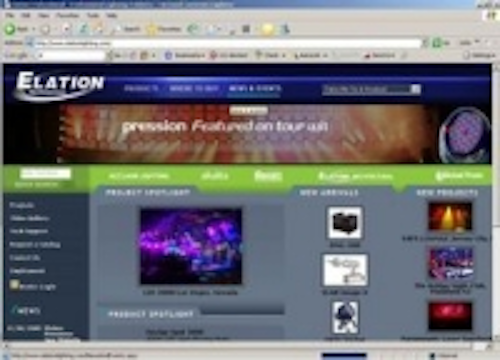 Date Announced: 05 Nov 2008
LOS ANGELES -- Elation Professional has redesigned its website (www.elationlighting.com), giving it a fresh updated look, and adding new, user-friendly features that make it easier than ever to obtain information about, and support for, the company's entertainment and architectural lighting products.
Designed for end-users, installers and dealers alike, the easy-to-navigate website offers multiple, quick ways to find specific product information. For instance, there's a convenient drop-down "Take Me To A Product" menu that lists all Elation products in alphabetical order. As another option, visitors can utilize a new "Quick Search" feature, where they can type in a product name or classification (e.g. "LED par cans") and get a listing of all items that match the description. A third product-search alternative groups Elation products by category, showing photos of each item that can be clicked on for more information.
Whichever route they take, visitors will find more detailed photos, specs and information on each product's page once they get there. "As lighting products become more technologically advanced, one of our goals with the new website is to convey as much information as we can to our customers so that they can make intelligent choices," said Eric Loader, director of sales for Elation Professional. "That's why we've provided more photos and details about each product, while still making the site very easy to navigate so that people can quickly find what they're looking for."
But the website's product information doesn't end with photos and details. Customers can actually see Elation lights in action, thanks to a new Video Gallery on the site that gives customers quick access to video demonstrations of the products.
Another of the new website's goals is to provide an unsurpassed level of product support to Elation customers. The site's expanded Tech Support does just that, featuring a comprehensive library of PDF User Manuals for all Elation products, along with all of the company's available Product Downloads. To address specific issues, the Tech Support area also includes a FAQ section with questions on topics such as DMX Addressing, as well as a Support Forum where customers can exchange advice and solutions. Other handy features in the Tech Support area are sections where users can register their products and obtain warranty information.
Dealers, too, will find their lives made easier by the new Elation website. In the all-new Dealer Login area, retailers can do more online -- enter orders, track shipments, review their accounts and receive the latest downloads.
One particularly fun and informative highlight of the site is the new Projects section, which displays colorful photos of Elation lights in action at concerts, churches, clubs, architectural installations and other venues. Visitors will be able to see how Elation is being used to light up everything from the recent John Mayer and Rascal Flatts tours, to WWE's transition to high-definition TV, to L.A.'s trendy Club Ember and Tennessee's prestigious ClearView Baptist Church.
For more information, visit www.elationlighting.com
Contact
For more information, visit www.elationlighting.com
E-mail:info@elationlighting.com
Web Site:www.elationlighting.com