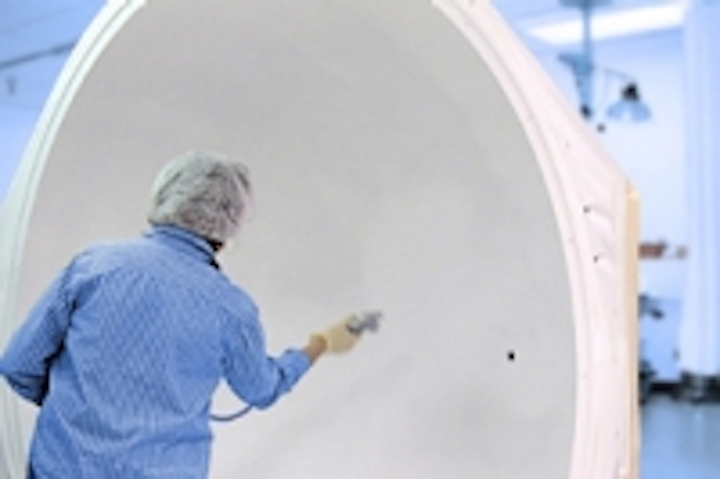 Date Announced: 21 Nov 2008
Ensure measurement quality and reduce downtime with on-site integrating sphere coating
North Sutton, New Hampshire (21 November 2008) – Labsphere, a world leader in light testing and measurement and optical coatings, now offers on-site service for recoating of integrating spheres. The company's Spectraflect® and Duraflect® highly diffuse reflectance materials can be applied at customer facilities for routine integrating sphere maintenance.
In production environments, the dust in the air can settle into integrating spheres used for light testing and measurement, resulting in a lack of spatial uniformity that leads to measurement errors. Labsphere recommends annual recoating of spheres operating in warehouses to maintain measurement consistency. Sending away large area spheres (some as large as 76 inches in diameter) can be a packing and shipping hassle that creates increased production downtime.
With its new service Labsphere recoats customer spheres on-site, vastly reducing production downtime. Labsphere's coating representatives are able to apply the company's proven, proprietary Spectraflect and Duraflect coatings to spheres in the field with the same care and attention given to those coated at Labsphere's facility.
Labsphere is currently offering a 20 percent price reduction for on-site recoating services booked before December 31, 2008. For more information and to schedule an on-site recoating appointment, phone +1 (603) 927-4266, or send an e-mail to labsphere@labsphere.com.
Part of the global Halma group of technology companies, Labsphere (www.labsphere.com) is a world leader in light testing and measurement and diffuse optical coatings. The company's products include LED, laser and traditional light source light measurement systems; uniform light sources for imaging device calibration; spectroscopy accessories; and high diffuse reflectance materials and coatings for applications in backlit panel displays, computed radiography, and system calibration. The company's expertise has resulted in multiple patents in areas such as methods for testing LEDs on a wafer and UV transmittance.
Contact
Labsphere Inc. 231 Shaker Street North Sutton, NH 03260 USA Tel: +1 603.927.4266 Fax: +1 603.927.4694
E-mail:labsphere@labsphere.com
Web Site:www.labsphere.com