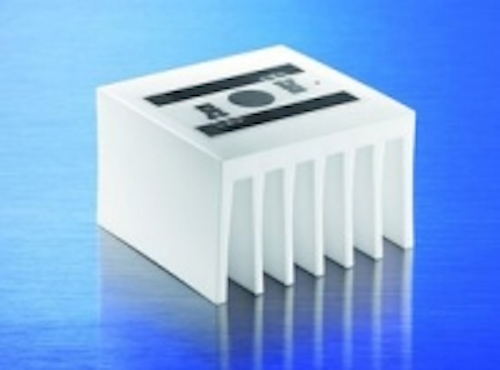 Date Announced: 25 Nov 2008
The optimized geometry allows operation of a 4W LED at a maximum temperature of 60°C and reduces the temperature at the hot-spot by 6°C resulting in a significant reduction of stress on a critical component.
This means the thermal resistance of the Rubalit ceramic assembly for an identical shape is 13% better than aluminum. With CeramCool® Alunit the improvement even reaches 31%. The new design is square in shape and comprises longer, thinner fins with a larger spacing.
The CeramCool® ceramic heat sink is an effective combination of circuit board and heat sink for the reliable cooling of thermally sensitive components and circuits.
It enables the direct and permanent connection of components, such as high-power LEDs and ceramic heat sinks. In comparison to conventional systems that mostly have numerous layers (adhesives, insulating materials) and widely varying thermal expansion coefficients, the assembly process is reduced, the device is made smaller and thermal conductivity measurably improved. Long-term stability and system reliability increase.
Also, ceramic is electrically insulating per se and can provide bonding surfaces by using metallization pads.
Customer-specific conductor track structures can also be provided. This turns the heat sink into a module substrate that can be densely populated with components. Individual forms can be manufactured and optimized according to customer specifications.
[image caption: Optimized CeramCool® geometry for 4W cooling. The thermal resistance of the CeramCool® Rubalit ceramic assembly is 13% better than aluminum, and with Alunit it is even 31% better.]
CeramTec AG
CeramTec AG is one of the leading global manufacturers of high-performance ceramics. With over 3000 employees and a comprehensive materials portfolio it serves areas such as medical technology, automobile construction and electronics, primarily with customized products, including mountings for xenon lamps, or CeramCool® in the Cadillac Escalade Platinum headlight. CeramCool® can also be manufactured according to customer specifications.
Contact
Jörg Kochendörfer Advertising and PR Director Telephone: +49 (0) 71 53 6 11-416
E-mail:j.kochendoerfer@ceramtec.de
Web Site:www.ceramtec.de