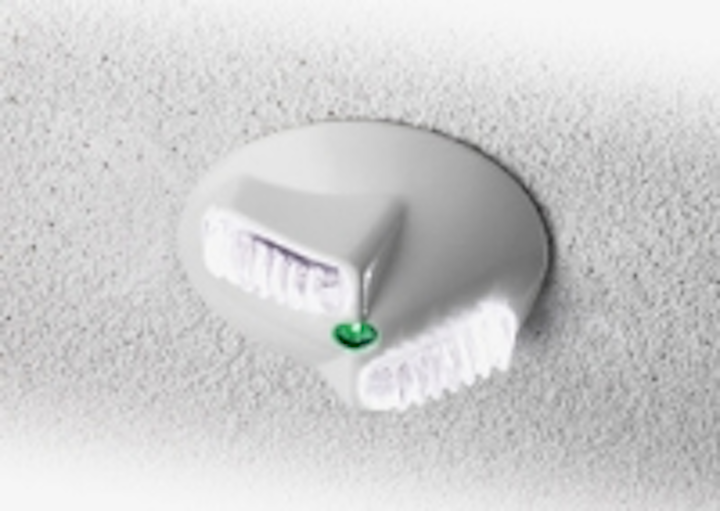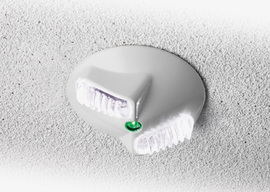 Date Announced: 28 Nov 2008
New from Cooper Lighting is the Menvier Briteway Recessed luminaire, which has been designed to provide discreet emergency lighting from a compact fitting using twin high-intensity LED light sources.
With an overall diameter of just 63mm and a low profile of 21mm, Briteway Recessed is ideal for use in hospitals, nursing homes, student accommodation, places of entertainment and hotels.
The luminaire's light distribution has been optimised to maximise spacing on escape routes, while the long life and low power consumption of LED technology make it particularly suitable for nightlight or background illumination applications.
Briteway Recessed is available in slave and maintained versions, the latter offering a variable light level feature that allows the maintained light level to be user controlled via a simple concealed pushbutton to suit the requirements of the application. Once set, the light level remains fixed until it is next adjusted, but automatically reverts to the correct emergency setting in the event of a mains failure, subsequently returning to the preset level once the mains supply has been restored.
The luminaire is very simple to install, with the battery and electronics housed in a remote gear pod, which is designed to fit through the ceiling aperture. In addition, a heavy-duty self-locking plug-in mains connector minimises installation time by avoiding the need to disassemble the gear pod.
Supplied with a 3-year guarantee as standard, Briteway Recessed has been independently tested by the BSI to verify the accuracy of the photometric performance and spacing data.
For further information, visit www.cooper-ls.com.
Contact
Tel: +44 (0)1302 303200
E-mail:info@cooper-ls.com
Web Site:www.cooper-ls.com