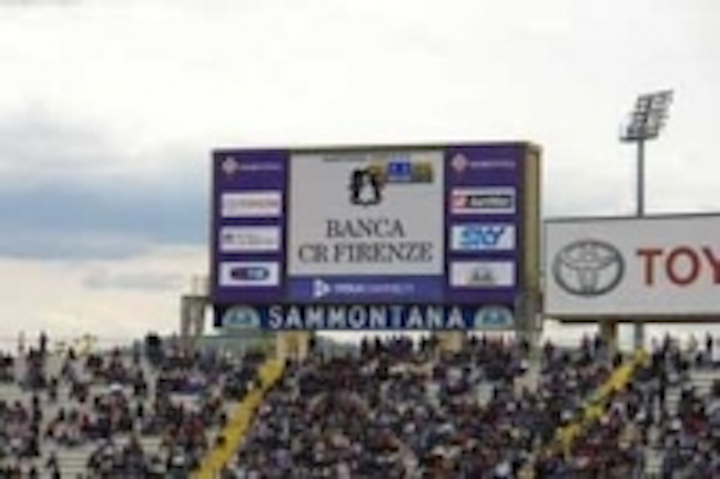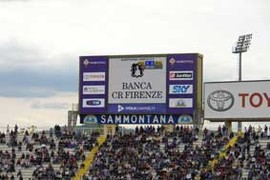 Date Announced: 12 Nov 2008
Italy – Artemio Franchi Stadium, home to Italian premier division and UEFA Champion's League club ACF Fiorentina, has recently seen the installation of a new Lighthouse P12-ER LED screen to provide added interest for the club's supporters and visiting football fans.
Measuring six panels wide by six panels high (9.60m x 7.20m), the 12mm visual resolution P12-ER screen is being used as a scoreboard and to show advertisements during matches. It serves as a medium that can support new and interesting content and provide a valuable additional revenue stream for the club.
Lighthouse handled both the sale and integration of the screen. It was chosen as the best technological solution available to meet the club's requirements. "P12-ER is an enhanced resolution product, which means more detailed information can be displayed on the screen than with a standard 25mm pixel pitch screen," explains Alessio Giagnoni, Lighthouse's sales support manager for Southern Europe. "P12-ER was designed specifically for the sports market. Its 5000 nits of brightness can cope with direct sunlight and its wide viewing angle gives the best possible view for the maximum amount of spectators possible."
"We chose Lighthouse from amongst several brands. The quality of the screen makes us stand out from other clubs and provides our sponsors, who advertise at the Artemio Franchi Stadium, a better service because of the high resolution of the screen," adds Salvatore Cuccu, marketing and communication area manager for ACF Fiorentina.
"We found the team at the Lighthouse Italy office very professional and we are completely satisfied with the final result. Our partnership with Lighthouse has been a resounding success. I would like to thank the Southern Europe team for the great effort they have put into the execution of our project. The trust we put in Lighthouse has been repaid."
The screen is controlled by a Lighthouse LIP-XGA interface processor and an X-Drive Pro image scaler via optical fibre connections, with content fed via Class X software provide by Italian company Project Italia.
"This is the first Lighthouse screen purchased by an Italian football club," concludes Giagnoni. "It has been very successful and we anticipate purchases by more clubs in the future."
~END~
Lighthouse Technologies Limited is a leading LED technology developer, manufacturer and global supplier of state-of-the-art LED modular video panels, which can be assembled into large scale video screens for indoor and outdoor use. It also produces a range of creative video solutions that have a multitude of applications.
Specializing in the research and manufacture of LED products, Lighthouse has its own intellectual properties with a remarkable number of active patents worldwide and is committed to remaining the premier creator of intellectual property values.
The company's LED components, panels and complete video systems undergo stringent quality control with power-on, burn-in processes at ISO9001 and ISO14001-certified manufacturing plants.
From the company's inception, Lighthouse products have won numerous international awards, from the prestigious Consumer Product Design Award and the HKITCC Certificate of Merit in Technological Achievement in the 1999 Hong Kong Awards for Industry, to Buzz of the Show award at InfoComm 2004 in Atlanta and 2005 IBC Exhibition Design Award. Most recently, Lighthouse was selected as a Top 100 Global Award Winner by Red Herring Magazine.
Lighthouse operates on a global basis. It has sales offices and technical support teams in the United States, South America, the United Kingdom, Continental Europe, the Greater China and Asia Pacific.
Contact
Sarah James Gasoline Media Limited
E-mail:info@gasolinemedia.com
Web Site:www.lighthouse-tech.com