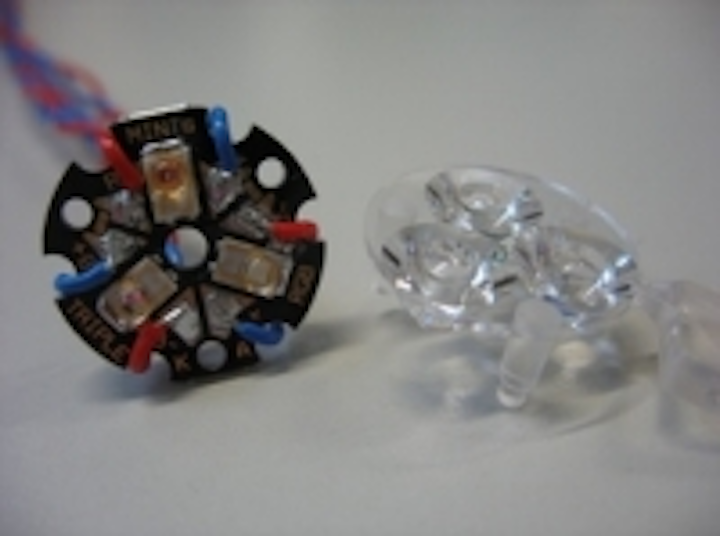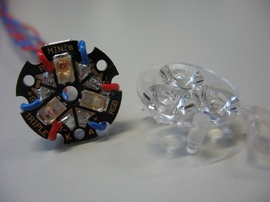 Date Announced: 27 Nov 2008
Fa. GK Technik announces today, that they have designed a new MPCB for the new 20mm triple lens from Carclo.
"It's one of our most innovative designs yet. This new MCPCB can be populated with LEDs from four different suppliers: Cree XP series, Lumileds Rebel, Nichia NFS and NJS, and Vishay VLM series, all fit to this new MCPCB." states Mr. Juergen Krueger, Co-Founder of Fa. GK Technik.
The LEDs can be arranged as RGB (as delivered) or as a real triple, by just closing two solder joints. With RGB, six wires needs to be soldered, with triple, just two wires.
About Fa. GK Technik:
Established 2004, Fa. GK Technik has made a great progress in designing MCPCBs. The designs are all made precisely in Germany, while the production is made very accurate and cost-effective in China. All used materials are RoHS-conform and UL-listed. Production facility in China is ISO9000-certified. Fa. GK Technik produces every week thousands of MCPCBs and is your reliable partner for your designs.
Contact
Fa. GK Technik Inh. Xiaozhong Gu & Jürgen Krüger Bürgermeister-Bohl-Str. 31 D-86157 Augsburg Deutschland Telefon: +49-821-2183461 Fax: +49-821-2193344 eMail: jk@elektronik-von-gk.de WWW: elektronik-von-gk.de
E-mail:jk@elektronik-von-gk.de
Web Site:www.elektronik-von-gk.de