New generation of headlights with OSRAM LEDs
Jan 17th, 2008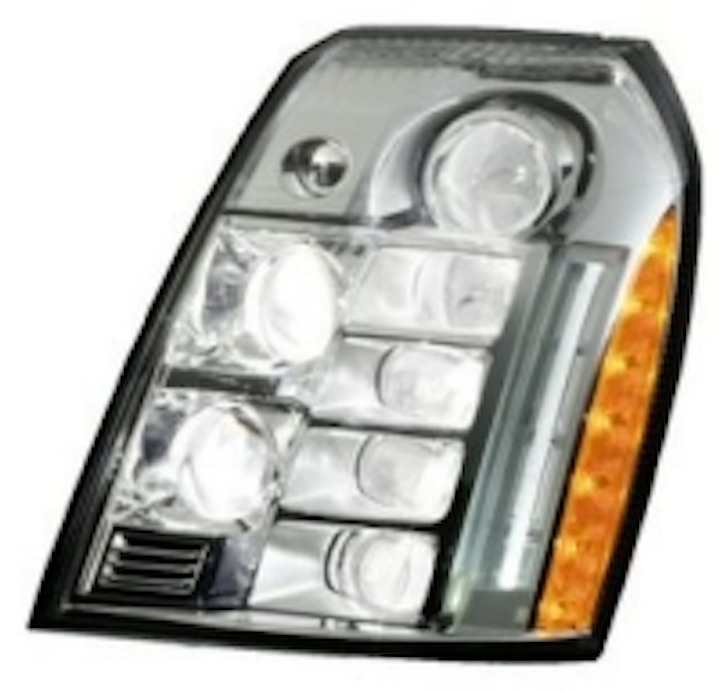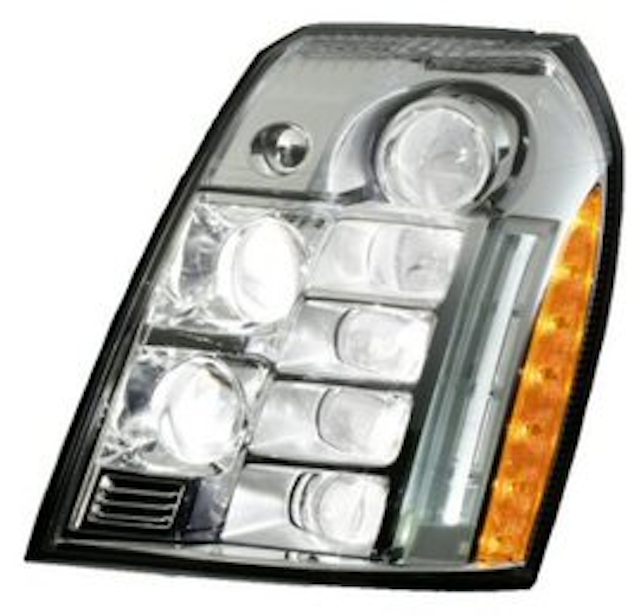 Date Announced: 17 Jan 2008
-- Revolution in exterior car lighting: the worldwide first SUV with LED-headlights will be launched 2008
-- In the luxurious Cadillac Escalade Platinum the high-power OSTAR Headlamp LEDs perform all the functions in the headlights supplied by Hella KGaA Hueck&Co.
A new era has dawned in automotive lighting. The Cadillac Escalade Platinum is the first sports utility vehicle (SUV) in the world to be fitted with LED headlights as standard. OSRAM LEDs perform all the functions in the headlights supplied by Hella – low beam, high-beam, daytime running light, position lights and side marker lights. The luxurious automobile will be launched in 2008.
As a technology leader in automotive lighting, Hella KGaA Hueck&Co has equipped the new headlights entirely with light emitting diodes in the typical vertical Cadillac style. The innovative headlight manufacturer opted for high-power LEDs from OSRAM Opto Semiconductors.
Each headlight contains seven OSTAR Headlamp LEDs – five for low beam and two for high beam. Daytime running light is provided by dimming the low beam. This means there is no need for an extra light source. This intelligent solution is only possible with LEDs.
Each headlight also has a position light with white Advanced Power TopLEDs and a side marker light with yellow Power TopLEDs.
High-luminance light sources
The OSTAR Headlamp LED was developed specifically to meet the requirements of Hella, the headlight manufacturer. It is among the brightest LEDs for use in the automotive sector.
With a color temperature of 5500 Kelvin, much higher than the 4000 Kelvin of xenon light, these tiny light sources create a light with the same color impression as natural daylight. The OSTAR is particularly robust and can withstand ambient temperatures from -40° to +125°C. Even when placed near a high-power engine it will continue to provide excellent performance.
Reliable partners in the automotive sector
OSRAM Opto Semiconductors and Hella have been working together for many years on a variety of projects. "Helping to create lighting solutions for automobiles is part of our core business", said Wolfgang Lex, Head of the LED business unit at OSRAM Opto Semiconductors.
"In our cooperation projects with manufacturers advanced headlight designs have gained in importance in recent times. Because LEDs are so small, designers have almost unlimited freedom so they can clearly differentiate from competitors."
Contact
Headquarter, Europe Tel: +49 (0) 941 - 850 - 16 93
E-mail:info@osram-os.com
Web Site:www.osram-os.com