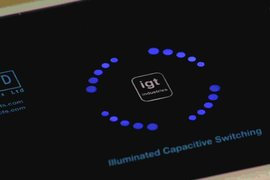 Date Announced: 07 Jan 2008
Design LED Products & IGT Industries announce the successful integration of thin printed lightguide technology with embedded LEDs into Capacitive switches.
With a wide range of intense and eye catching colours, LED illuminated displays gives customers' products the presence to stand out from the crowd and enhance the user interface functionality.
Typically 1 mm thick, the switches include the capacitive switch sense pad, light-guides with integral LEDs and outer graphic and are used with QTouch(TM) sensor chips.
Selective illumination of keys or icons is used to guide through programming options by highlighting only the valid key choices. Simple animation effects communicate the devices' operating mode.
Colour change is achieved by integrating two or more different LEDs into each lightguide. This is often used to signal a change of device mode to the user.
Capacative switch with colour change
Illuminating capacitive switches has traditionally caused problems to designers as the electric field from the light source effects the operation of the switch. Design LEDs thin printed lightguide technology allows the LEDs to be located away from the capacitive sense pad and transport the light to the area to be illuminated. Additionally the high reliability of LEDs complements the capacitive switch which has no moving parts.
Capacitive switches are already used in both consumer and industrial goods. Design LEDs lightguide technology appeals to a wide range of sectors including Consumer Electronics, White Goods, Medical, Automotive and Industrial products.
Iain Kyle, Business Manager of Design LED Products states, "Designers have a new medium to enhance the visual appearance, user friendliness, user feedback and functionality of switch & keypad products. If OEMs seek to improve user satisfaction gained from the interface to their products, then Design LEDs lightguide technology used with capacitive switches deserves serious consideration".
Hal Philipp, founder and CEO of Quantum Research Group states, "Innovation is what our business is about. At Quantum we have repeatedly seen our groundbreaking capacitive touch technology help designers produce stylish, functional and economical products. The combination of QTouch chips with this new lighting technology from Design LED will enable customers to deliver high value solutions, by allowing them to differentiate their designs to create real competitive advantages."
Ronnie Scotland, Innovation Advisor at the award winning Hillington Park Innovation Centre where Design LED Products are based, said "The relationship between Design LED and such an influential player as IGT Industries is indicative of the industry looking for thinner, more flexible LED's to work within different types of products across multiple markets."
QTouch(TM) is a trademark of Quantum Research Group.
Contact
Iain Kyle at Design LED Products Limited Tel: +44 (0)141 585 6470 Derek McLaughlan at IGT Industries Limited Web: www.igt-industries.com Tel: + 44 (0)23 8061 0818 E-mail : sales@igt-industries.com
E-mail:info@designledproducts.com
Web Site:www.designledproducts.com