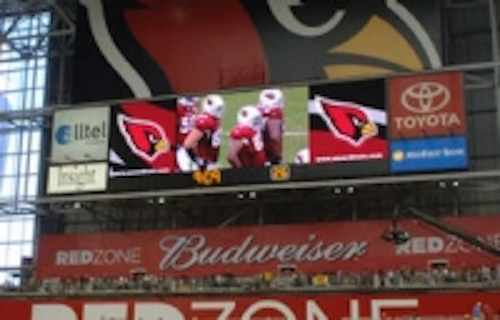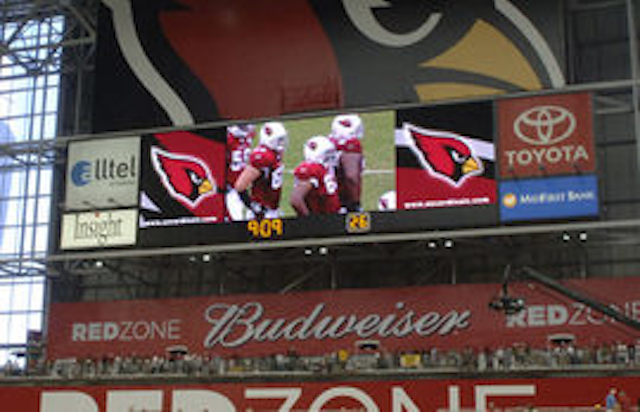 Date Announced: 31 Jan 2008
BROOKINGS, S.D. –– The Super Bowl always seems to bring out the best in entertainment, commercials and the game itself. This year is no exception, as guests at the game will be surrounded by state-of-the-art scoring and video display systems provided by Daktronics Inc. (NASDAQ-DAKT) of Brookings, S.D., the world's leading provider of full-color light emitting diode (LED) video displays.
Daktronics' industry leading LED technology will once again entertain and inform guests at the Super Bowl this year, being held at University of Phoenix Stadium in Glendale, Ariz., home of the Arizona Cardinals.
This year will mark the fourth year in a row that Daktronics has provided integrated scoring and video systems at the Super Bowl. Previously Daktronics equipment highlighted Super Bowl games at Alltel Stadium in Jacksonville (2005), Ford Field in Detroit (2006) and Dolphin Stadium in Miami (2007).
In 2009 the Super Bowl will be at Raymond James Stadium in Tampa, Fla. and 2010 will once again see Dolphin Stadium in Miami host the big game. With Daktronics equipment super systems installed at both of these venues, Daktronics will help supply Super Bowl fans with the best game-day experience at an unprecedented six straight Super Bowl games.
"The Super Bowl is the premier sports event in the nation," said Jay Parker, National Sales Manager for Daktronics Large Sports Venue division. "We are once again pleased to help the host venue provide the best game-day experience for the fans at the game."
Daktronics continues to entertain fans throughout the NFL as it currently has quality scoring and video equipment displays at 26 of the 31 National Football League stadiums.
Prior to the 2007 NFL season, Daktronics provided Heinz Field, home of the Pittsburgh Steelers with its latest HD-X (high definition) LED technology. Daktronics HD-X LED video displays, available in a wide variety of sizes and configurations, represent a new generation of large screen technology. The product line features a number of industry advances including a high-density pixel layout, improved contrast levels and enhanced viewing angles. Using the latest LED and control system technologies, Daktronics large screen displays present live and recorded video images, colorful animation and vivid graphics.
To open the 2008 NFL season, the Indianapolis Colts have recently chosen Daktronics to install new high-definition LED technology throughout the newly constructed Lucas Oil stadium. Daktronics will highlight Lucas Oil stadium in the form of two huge video screens and surround Colts fans with nearly 1,700 feet of ribbon board.
Contact
call (605) 697-4300 toll-free (888) 325-7767
E-mail:sales@daktronics.com
Web Site:www.daktronics.com