Philips LED lighting transforms South Bank's underpass network
Jan 24th, 2008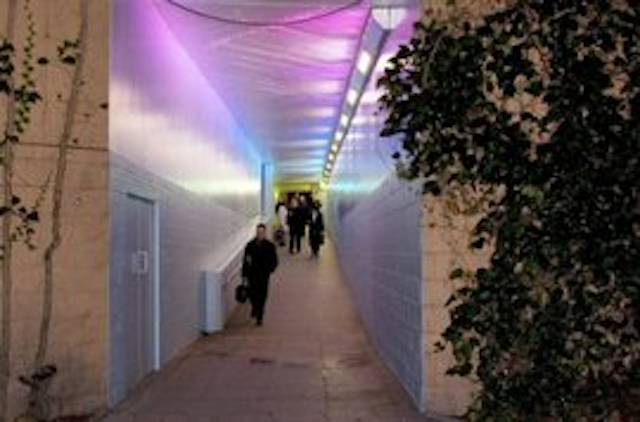 Date Announced: 24 Jan 2008
-- Philips Lighting transforms South Bank's underpass network with state-of-the art LED lighting solution
Royal Philips Electronics (NYSE:PHG, AEX:PHI) has worked with Transport for London, Lambeth Council and South Bank Employers' Group to transform the underpasses beneath the BFI IMAX cinema, one of the UK capital's most exciting visitor attractions.
Philips state-of-the art LEDline2 modules have been installed in conjunction with a dedicated dynamic controller which enables specifically designed sequences of coloured lighting to be created reflecting different moods for different seasons, calendar events or times of the day.
Excellent transport links via main line stations make the South Bank a popular place to explore. With many thousands of commuters and tourists coming to the area, the South Bank Employers Group were therefore keen to discuss improvements for the network of 6 pedestrian subways which lead to key tourist attractions and commercial enterprises south of the river.
Above all, while the lighting scheme adds to the visitor experience, its main objective was to create a sense of safety. As the move grows for us to all adopt a greener lifestyle thereby increasing our use of public transport, clean, pleasant walkways and pedestrian zones play an ever important role in this.
Within with main through ways Philips installed bespoke fittings along the cornice incorporating RGB LEDline2 modules. LEDline2 was ideally suited as it can be easily fitted into awkward spaces such as here but its main beauty is that its collimating optic gives unrivalled power creating strong washes of light across the space.
The controlled soft light reveals the surface and texture of the walls transforming them into sheets of light and offering a whole range of creative lighting effects. Here, the addition of coloured light provided a superb opportunity to instil a sense of expectation as visitors stroll through the network of walkways. The modules were also linked to a control system to provide the option of colour chasing adding yet more drama and dynamism to the scene.
To provide the ambient lighting further additional LEDline2 modules were installed but blanked out in order for Philips MASTER Xtreme lamps to be incorporated. Xtreme lamps come into their own in installations which are difficult to reach since they have an extremely long service life of 40,000 hours and are very reliable. This also gives the opportunity to schedule and budget for maintenance ahead of time and cause the least possible disturbance which is particularly important in a public access area.
Along the ramp ways bespoke brackets were used to position Philips Mini Milewide luminaires which housed the award winning CosmoPolis 60 W lamps thus providing further general lighting. To give added interest the 8 columns in the passageways were lit with Mini Decoflood placed at both the top and bottom of each pillar. Incorporated within them MASTER Colour CDMR 35 W lamps were used to create pools of light.
Now, far from being a typically dull subway system, the network of passages has become not just a functional and safer walkway but also an integral part of the London scene, a welcome signature for visitors, commuters and residents alike.
About Royal Philips Electronics
Royal Philips Electronics of the Netherlands (NYSE: PHG, AEX: PHI) is a global leader in healthcare, lighting and consumer lifestyle, delivering products, services and solutions through the brand promise of "sense and simplicity". Headquartered in the Netherlands, Philips employs approximately 128,000 employees in more than 60 countries worldwide. With sales of EUR 27 billion in 2006, the company is a market leader in medical diagnostic imaging and patient monitoring systems, energy efficient lighting solutions, personal care and home appliances, as well as consumer electronics. News from Philips is located at www.philips.com/newscenter.
Contact
Philips Lighting Barbara Neate, Tel; +44 1483 293 071 South Bank Employers' Group Rachel Trayner 020 7202 6918 Rachel.Trayner@southbanklondon.com
E-mail:barbara.neate@philips.com
Web Site:www.philips.com