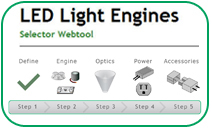 Date Announced: 22 Jan 2008
MONTREAL, CANADA -– Future Lighting Solutions (www.futurelightingsolutions.com), a division of Future Electronics, today launched the industry's first web-based tool specifically designed to enable faster, easier integration of high power LUXEON® LEDs into new lighting systems. The LED Light Engine Selector Web Tool™ brings users to within just five easy steps of a solid-state lighting system by offering a broad range of off-the-shelf LUXEON LED light engines.
This Selector Web Tool allows users to specify fundamental parameters of their solution – such as color, form factor, optics, power and accessories – through simple menu options. The tool then guides the user through the selection process for a light engine and associated parts, providing a summary report with items and quantities, photos, datasheets, and a link directly to the Future Electronics Component Super Store to simplify on-line ordering.
"We are trying to take as much time and cost out of the solid-state lighting development process as possible," said Lawrence Madanda, Director of Global Marketing for Future Lighting Solutions.
"This tool simplifies and accelerates the creation of LED fixtures and provides the benefits that customers are seeking from quality LED lighting – including lower energy and maintenance costs, long life, color tunability etc. The faster customers get to market with these solutions, the sooner they can reap the rewards."
Each LED light engine incorporates LUXEON LEDs from Philips Lumileds, which offer the highest quality light output and efficacy available from a power LED source. The light engines are available in single- and multiple-LED configurations for both single color (including white) and RGB applications, with or without optics. They come mounted on a MCPCB in the form of an array or linear strip.
"These light engines are high-quality solutions with no compromises, and provide styling freedom and flexibility," continues Lawrence Madanda. "We invite customers in architectural, entertainment, retail lighting, signage and other general lighting applications to try out the LED Light Engine Selector Web Tool™".
About Future Lighting Solutions
Future Lighting Solutions is a division of Future Electronics Inc., the 3rd largest electronics distributor in the world. Future Lighting Solutions is focused on deliv¬ering world-class LUXEON high-power LEDs, technical solutions and commercial support that facilitate developing and manufacturing "never before possible" LUXEON LED based applica¬tions. Future Lighting Solutions brings customers unparalleled LED lighting knowledge, access to expert resources, full system solutions, global logistics support and full access to the LUXEON LIGHTING NETWORKtm of Certified Solutions Partners. Future Lighting Solutions is your first and last stop for complete LUXEON lighting solutions.
Contact
Heather Goldsmith Telephone: +1 514-694-7710
E-mail:Heather.Goldsmith@futureelectronics.com