ATG Electronics eCove T30T LED Rigid Strips provide a low profile intelligent RGB color changing lighting solution
Jan 6th, 2008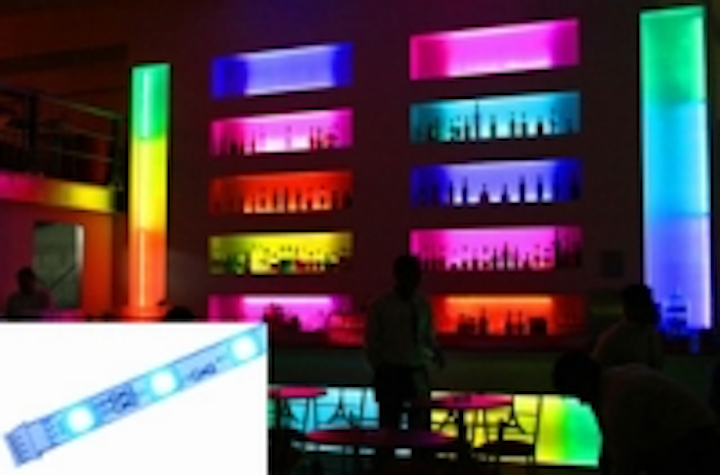 Date Announced: 06 Jan 2008
eCove™ T30T adopts 3-in-1 SMD LEDs (minimum cut is 6LEDs) and ultra thin PCB, it can be concealed into most confined space and distributes lights out without seeing the fixture.
eCove™ T30T works at 24VDC (constant current) and can run up to 7meters (23 feet) long (HRS-T30T-70-L2) easy to meet lighting designers' requirements; also it receives data from DynColor™ 300-FS or QColor 310-FS controller, and supports data expansion to create a synchronous effect in different groups (QColor™ 310-PE Power Expansion Module needed).
eCove™ T30T can easily stick to any surface with 3M tape and link between fixtures and to the controller via 4-pin data wire.
Features & Benefits:
-Beautiful lighting output with high intensity RGB color LEDs (3-in-1 SMD LED);
-Compact size and smallest cuttable 6-LED unit for narrow area lighting;
-Able to achieve many different color-changing modes with specified controller;
-Even color from fixture to fixture;
-Safe and stable with low voltage;
-Energy saving with low power consumption.
Recommended Applications:
-Decorative lighting (cove lighting, back lighting etc) for homes, restaurants, hotels, shops, stores, cinemas, theatres, bars, clubs etc;
-Display lighting for the articles in your shops, stores, bars, clubs or any other display purpose;
-Signage lighting for transparent and diffused signboards, billboards or notice boards etc.
About ATG Electronics
ATG Electronics established in 1999 and formed partnerships with companies in California, designs, produces, distributes and licenses lighting emitting diode (LED) controllable digital decoration and illumination lighting systems, including
iVision-V™ and oVision-V™ LED Screens for advertising lighting;
iLinear™ LED ribbon strips, iSignage™ LED flex strips and oSignage™ LED modules for signage lighting;
Infinity™ LED rope lights, UniQ™ LED border lights and Smart™ LED wall washers for architectural lighting;
eLucent™ LED XPower lamps, iBright™ LED fluorescent lights for illumination lighting;
and power/control systems and software.
Contact
ATG Electronics Inc. ---Light your world, color your life. International Sales Department Tel: +86-21-33932667 Fax: +86-21-33932677
E-mail:sales@atgelectronics.com
Web Site:www.atgelectronics.com