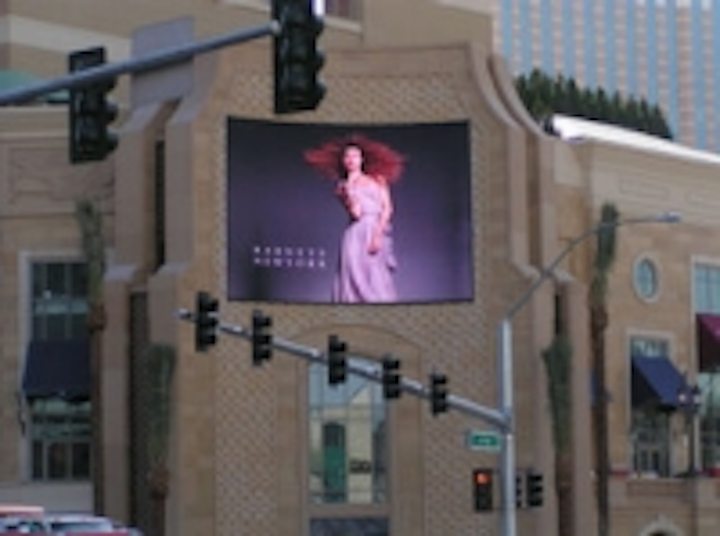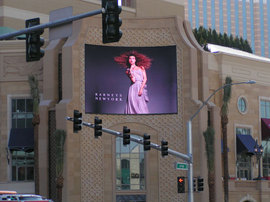 Date Announced: 24 Jan 2008
Las Vegas' newest Resort-Hotel-Casino uses displays to advertise its premium amenities
BROOKINGS, S.D. –— Continuing its strong affiliation with supplying the world‐class Las Vegas Sands Corp. with innovative display systems, Daktronics today announced the latest display
addition for the newest hotel on the Las Vegas Strip in nearly three years.
The Palazzo Las Vegas, a luxurious resort located adjacent to the illustrious Venetian Resort‐Hotel‐Casino, recently purchased and installed three cutting‐edge Daktronics video displays.
Located at the corner of Las Vegas Boulevard and Spring Mountain Boulevard, a single‐sided concave video display incorporates the side wall of The Palazzo Las Vegas and measures approximately
23‐feet high by 32‐feet wide.
At the front of the property along Las Vegas Boulevard rests a dual‐faced video marquee display measuring approximately 34‐feet high by 21‐feet wide.
Daktronics video displays dazzle onlookers with brilliant animations, video clips and graphics in 4.4 trillion colors. With indoor and outdoor models available, Daktronics video displays provide exceptional color accuracy, image depth, viewing angles and brightness.
Both displays present on‐premise advertising for The Palazzo Las Vegas and have been promoting
the mega‐resort's grand opening set for Jan. 18‐19, 2008.
Controlled by Daktronics Venus® 7000 controller,
the displays feature pre‐recorded video content and advertise The Palazzo Las Vegas' many features
including Barneys New York and the upcoming Broadway smash‐hit JERSEY BOYS, as well as The
Venetian's entertainment offerings such as Phantom – The Las Vegas Spectacular, and Blue Man Group.
When combined with the neighboring Venetian and Sands Expo and Convention Center, The Palazzo
Las Vegas will give Las Vegas Sands Corp. the largest hotel and convention complex in the world. The
Palazzo Las Vegas boasts more than 3,000 all‐suite rooms and features modern European ambience and
design reminiscent of Italian affluent living with a unique combination of premium amenities.
Daktronics has held a firm relationship with Las Vegas Sands Corp. since it first supplied ProStar®
displays for the Venetian Resort‐Hotel‐Casino in May of 1999. The company has continued to contract
with Daktronics to provide them with numerous extravagant displays for their luxurious properties in
Las Vegas and Macau, China. For more information please visit www.daktronics.com/gaming.
About Daktronics
Daktronics has strong leadership positions in, and is one of the world's largest suppliers of,
computer‐programmable displays, large screen video displays, digital billboards, and electronic
scoreboard and control systems. The company excels in the control of large display systems, including
those that require integration of multiple complex displays showing real‐time information, graphics,
animation and video. Daktronics designs, manufactures, markets and services display systems for
customers around the world, in sport, business and transportation applications.
Contact
Tel. 605) 697‐4300 or toll‐free (800) 325‐8766
E-mail:sales@daktronics.com
Web Site:www.daktronics.com