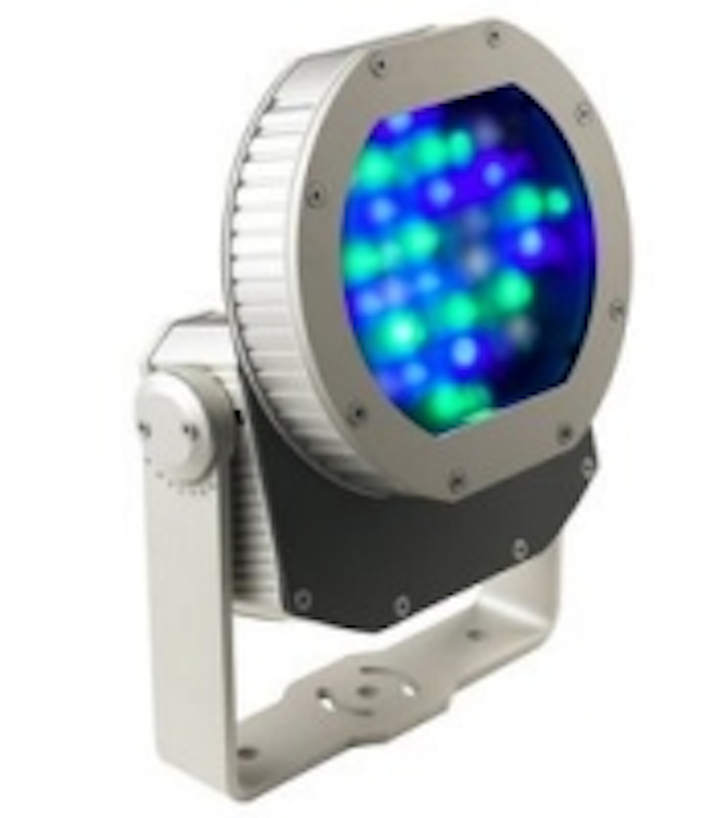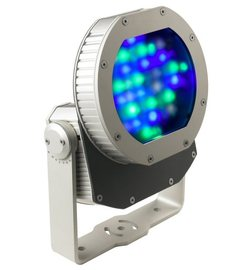 Date Announced: 17 Jan 2008
The Exterior 200 LED is a long-life programmable luminaire offering full RGB + Amber and White color mixing. Weatherproofed for the dynamic illumination of façades, structures, water features and monuments, it features a comprehensive color range from 44 high power LEDs and choice of optional spread angles.
Housed in a beautifully designed weatherproof casing, the Exterior 200 LED is perfect for applications where projection distance is limited and is the ideal short-throw complement to the existing Martin Exterior range.
Stylishly slim, the Exterior 200 LED can be tucked discreetly into architectural design details of buildings or any other illumination structure and requires minimal service and maintenance. An IP65 rating means the Exterior 200 LED can withstand even the toughest outdoor conditions.
True white and better saturated colors
With five colored diodes (Red, Green, Blue, Amber and White) instead of the usual three, the Exterior 200 LED is able to offer a broader and finer range of colors. A greater variety of color shades and brighter saturated colors are possible compared to CMY systems. While the amber helps extend the color range and give effective color temperature control, the white diode provides a better white light quality and the ability to create softer, subtler pastels.
The Exterior 200 LED is available in a choice of narrow, medium or wide beam options for use at distances between approximately two to six meters (6 to 20 ft). The lenses are also available as accessories, allowing the luminaire to be reconfigured on site if necessary. When used without a diffuser lens, an even narrower beam can be achieved.
Consistent and even colors
Martin set out to solve what has been one of the major drawbacks of LED lighting: color consistency. A central feature of the Exterior 200 LED is the ability to create even and consistent colors. Pixel boards for the Exterior 200 LED are individually measured and calibrated, guaranteeing standardized brightness and color performance.
Multiple color control modes
The Exterior 200 LED is controlled by industry standard DMX, can function as a stand-alone unit or be synchronized (master/slave). To give maximum flexibility, Martin has provided four distinct DMX control modes - RGB, RGBAW, HSI (Hue, Saturation, Intensity), HSIC (Hue, Saturation, Intensity, Color Temperature). This gives the option of simple and effective control, economizing on channels, or full comprehensive control when a designer needs it.
Stylish simplicity
With an auto sensing switch mode power supply and simple lens and LED access when needed, the Exterior 200 LED is virtually trouble-free. A built-in light sensor, internal timer and 20 stand-alone memory presets add to its independent functionality.
Requiring little service and maintenance, the Exterior 200 LED incorporates the same tough, extruded aluminum housing and attractive design as the Exterior 200 that allows it to fit safely and discreetly into virtually any environment.
Contact
Telephone: +1 719 686 0793 Fax: +45 87 40 00 10 (DK) / +1 954 858 1811 (US)
E-mail:larry.beck@martin.dk
Web Site:www.martin.com