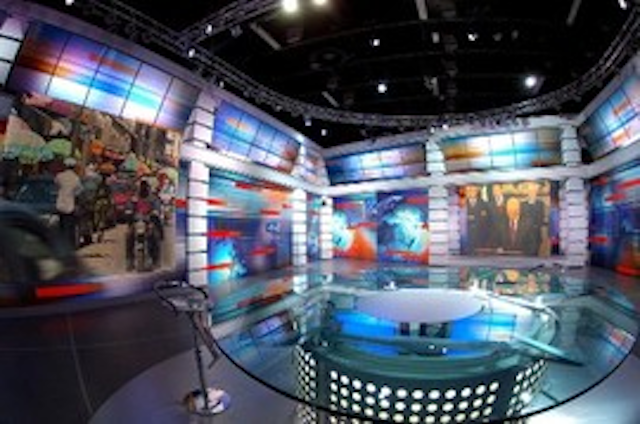 Date Announced: 15 Aug 2008
Back in October 2007, Giorgio Marra, Director of Rome Mediaset SpA news, decided that the broadcasters' prestigious TG5 news studio was badly in need of an upgrade.
It was not only that the Rome-based commercial TV station was working with aging technology, but also it was proving extremely expensive to maintain.
He sat down with Mediaset's senior director of photography, Gianni Mastropietro, and debated how the true cost of ownership could be measured, using technologies with high output but low power consumption and maintenance — and long-life lamps. They looked at technical issues such as colour saturation, beam spread and colour temperature correction. And from this they launched an ambitious plan for their digital studio based around an LED solution.
Mediaset trialled several brands but opted for the Coemar ParLite LED, as it not only met the above criteria but also responded well when auditioned in conjunction with the studio's Sony HDVS cameras.
The ParLite LED offers infinite colours produced by RGB colour mixing, electronic strobe, four different automatic colour-changing programmes, bi-directional DMX, different lens options and full-range dimming.
The broadcasters made a bold commitment to the fixture — requisitioning 140 of the 36 x 1W Luxeon ParLite LED heads, all fitted with 12° lens; these were supplied, complete with colour frames by Di & Di Lighting & Truck srl, a large rental company based in Rome. Set in Par 38-style cans the ParLite LEDs have been built into the vibrant new set conceived by scenographer Raffaella Galbiati, and mounted on racetrack-shaped truss around the studio perimeter.
TG5 sits alongside, TG4 and Studio Aperto at the historic Centro Palatino site and broadcasts four news programmes each day; the number of journalists on set at any one time defines the number of ParLites used, the percentage brightness they are run at — and whether with or without frost filter.
Giorgio Marra explained how the process had been conceived — and why simple direct DMX control to each head, with pre-programmed effects customised in the Effects Editor of a Compulite Spark 4D, reduces cabling, and obviated the need for dimmers.
"The owners and stakeholders in Mediaset had requested innovation," he said. "We had not only been looking for a solution to solve the visual problem of the studio but also the technical problems to do with dimming and maintenance, and the changing of the lights. The purpose was to save energy and money by using a new technology — and with the ParLite LEDs we have certainly made a huge improvement to the efficiency."
For instance, he says, with a news programme airing five times a day the risk of a dimmer developing a fault or lamp blowing is not only high, but time-consuming to rectify; but now that risk has been eliminated entirely. Furthermore, Mediaset has saved substantially on air conditioning costs in the summer — in fact on occasions the station even has to switch the heating on!
Gianni Mastropietro added, "We chose Coemar because we could guarantee functionality and power output — and also we knew they would provide the support. And since LED's draw less power we were able to use more use more fixtures to create additional flexibility. This is a multi-set studio and we generally run the ParLite LED's at between 60%-70%."
As a result, the studio now consumes only 4kW, compared with the previous 80kW lamps for each edition.
Coemar sales manager, Giorgio Radice, said, "We supported this important project because it represents the future.
"When a company like Mediaset chooses Coemar it further underlines not only the strength of our R&D programme, but that leading studio DP's as well as entertainment and architectural LD's are now endorsing our products."
And Giorgio Marra concluded, "We are pleased to have been able to set a new standard in lighting, and we are entirely satisfied that we have found the best solution.
"We are proud that not only are we the first organisation to take this approach, but at the same time we have confounded some of the sceptics."
From now on viewers will be able to watch their favourite TG5 programme (whether news or politics) with a different approach — knowing that the energy consumption has been lowered to one-sixth to that of other programmes.
But the studio still hasn't finished. For all its energy saving, TG5 is continuing its evolution, and is presently testing a new tulle projection screen in its attempts to achieve solid blacks from its new DLP 20K projector.
Contact
Chiara Pellicelli Coemar Spa Tel: +39 0376.77521 or Jerry Gilbert JGP Public Relations Tel: +44 (0)1707 258525
E-mail:chiara@coemar.com
Web Site:www.coemar.com