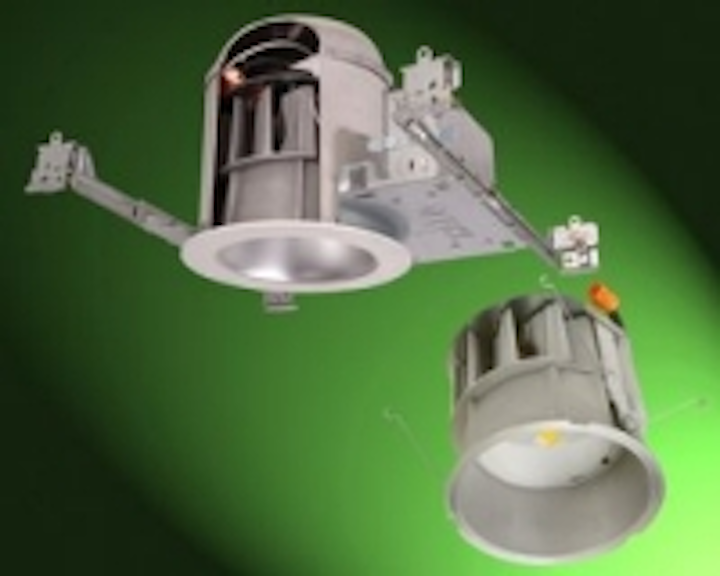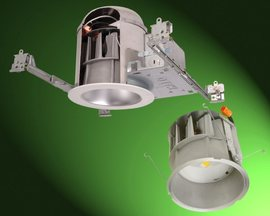 Date Announced: 21 Aug 2008
-- Expanding portfolio of energy-efficient LED products
Peachtree City, GA -– Cooper Lighting, a division of Cooper Industries, Ltd. (NYSE: CBE) announces the addition of LED recessed lighting to its Halo downlighting product line. Designed for new construction and existing applications, the LED recessed lighting features a Halo LED module that installs into a new construction housing or into existing Halo and All-Pro housings. The new Halo LED downlight offers the benefits of energy savings, long life, improved quality of light, reduced maintenance, and may help to protect the environment by reducing the electrical load and lowering power plant emissions when compared to traditional light sources.
Providing excellent color quality with a rendering of 80 CRI and a warm white color temperature (3045K nominal), the Halo LED recessed fixture delivers over 600 lumens (comparable in light output and light distribution to a 65 watt BR30 lamp or 18 watt compact fluorescent fixture). Its superior optical design provides good cutoff and low glare. The recessed fixture exceeds high efficacy requirements for California's Title 24, with energy savings in excess of 75% when compared with a 65 watt incandescent lamp. Virtually maintenance-free, the Halo LED fixture is constructed to provide 50,000 hours of life. (The Halo LED fixture could last up to 20 years when used six hours per day.) Plus, for additional energy savings, the LED module is dimmable to approximately 15% using standard AC incandescent analog dimmers and approximately 5% with dimmers that have a low end trim adjustment.
Ideally suited for commercial, hospitality, healthcare, retail and residential applications, the downlight accepts a number of trim options including a reflector, baffle and lensed shower trim.
LEDs are quickly being adopted as an illumination solution for general lighting applications. Energy-conscious markets are focusing on high-efficacy LED lighting systems to capitalize on the longevity and convenience of solid-state lighting. Due to LED's solid-state principles—no filament to break—the light source is not susceptible to vibration reducing the risk of premature failure. The sustainability of the fixture dramatically reduces maintenance and service costs over traditional sources. The Halo LED module is designed to last up to five times longer than a fluorescent source or 50 times longer than an incandescent.
For additional information, visit www.cooperlighting.com or email TalkToUs@CooperIndustries.com.
About Cooper Lighting
Cooper Lighting, a subsidiary of Cooper Industries (NYSE: CBE), is the leading provider of innovative, high quality lighting fixtures and related products to worldwide commercial, industrial, retail, residential and utility markets. For more information, visit www.cooperlighting.com.
Contact
Karin Martin Communications (630) 513-8625
E-mail:Kmartin41@aol.com
Web Site:www.cooperlighting.com