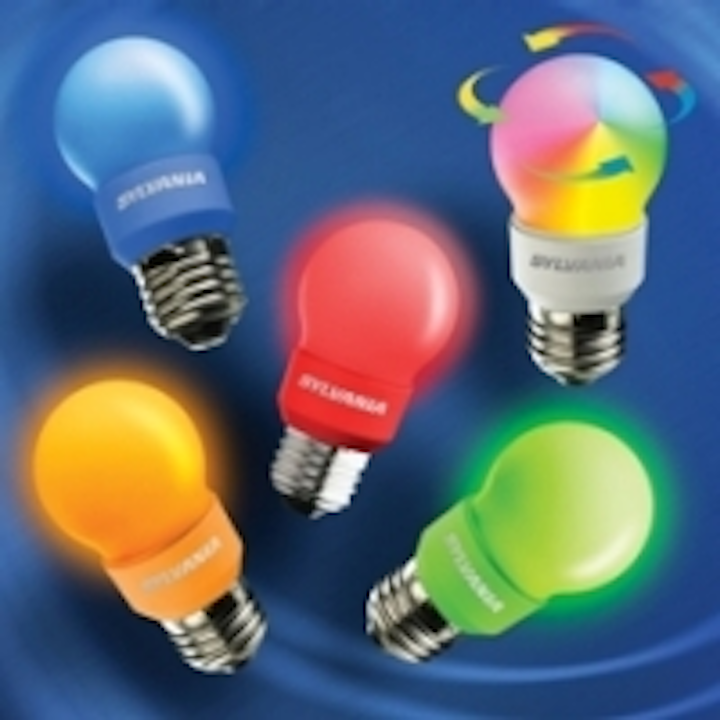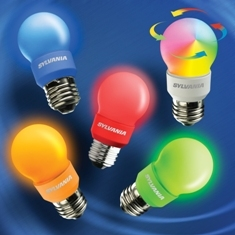 Date Announced: 04 Aug 2008
Historically, LED lighting has been more of a challenge than a realistic lighting concept. Now there is no doubt that LEDs are the light source of the future; it is just a matter of when they'll be available. Osram Sylvania continues to move the industry closer to full LED capabilities with the introduction of LED Lamps and Retrofits. LED Lamps and Retrofits replace traditional light sources in a number of new applications. These new bulbs are the first step toward a complete LED lighting selection.
LED Lamps and Retrofit are screw-based plug-in replacements of conventional light sources, like incandescent, halogen and fluorescent technology. This first introduction of retrofits consists of 20 types of colored bulbs; in red, yellow, green and blue colors. A RGB color changing bulb with synchronized and smooth color changing sequence is also offered.
Using only one to two watts of power, the LED Retrofit bulbs primarily replace the conventional light sources to generate superior energy savings due to high efficacy of LED technology. These LED Retrofit bulbs directly replace any colored incandescent bulbs and last 25,000 hours. This is equal to 10 times the life of incandescent bulbs, which generates significant cost savings to customers.
"LED technology has come a long way from semiconductor components to sustainable lighting solutions; we continue to focus our attention into the research and development of LED light source to create new products with long life, energy savings and substantial light output," commented Michelle Huang, Osram Sylvania LED product marketing manager. "These colored LED Retrofit bulbs are simply a stop on the track to the upcoming white LED lamps as true equivalents to incandescent and halogen lamps for general illumination."
Available in four shapes, these LED retrofit bulb contain integrated electronic drivers that operate off AC line voltage. These new bulbs can be used in indoor and outdoor weathered applications and offer a highly decorative light creating unique atmosphere. Commercial applications include amusement park lighting, casinos, marquee signage, hospitality, restaurant and bar, resort, and retail displays.
The LED retrofit bulbs provide intense colors and smooth color changing for setting the mood. Several residential applications can benefit from the use of these LED bulbs. They can add fun, mood provoking lighting for every room in home, such as kitchen, dinning room, kid's room, bathroom, and in-home recreation room. These bulbs also add decorative light to several residential outdoor applications like garden and pool lighting, entryways, porches, patios and decks.
About Osram Sylvania:
Osram Sylvania is a leader in lighting solutions and specialty products that feature innovative design and energy saving technology. The company sells products for homes, businesses and vehicles primarily under the Sylvania brand name, and also under the Osram brand. Headquartered in Danvers, Mass., Osram Sylvania is the North American operation of Osram GmbH, a wholly owned subsidiary of Siemens AG.
Contact
Michelle Huang Product Line Manager Sylvania Ph: 978-750-2267
E-mail:Michelle.huang@sylvania.com
Web Site:www.sylvania.com