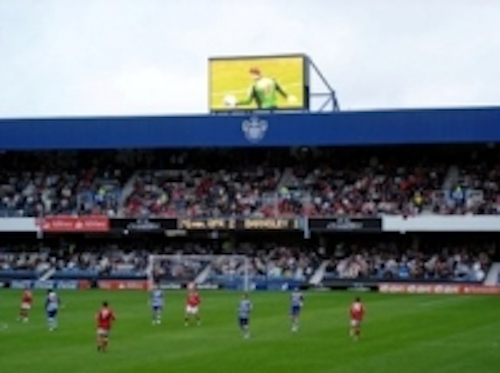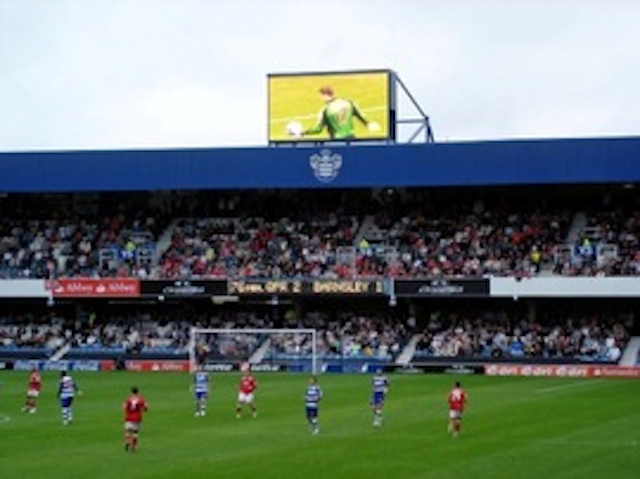 Date Announced: 27 Aug 2008
UK football's leading LED screen supplier, The ADI Group, have provided an LED screen and "digiSCORE" LED scoreboard solution for Championship club Queens Park Rangers (QPR). Both the screen and the scoreboard were installed during the close season and were used for the first time in QPR's opening campaign win against Barnsley a short while ago.
The contract has seen ADI install a 30m² Virtuality LED screen on top of the School End Stand as well as a 6.5m² digiSCORE scoreboard at the other end of the stadium above the goal at the Loft End. QPR are the first club to install the digiSCORE system, a customisable solution from ADI that delivers all of the benefits of full colour LED screen technology in a scoreboard format.
Queens Park Rangers are the latest in a long line of football clubs to take delivery of LED screen technology from ADI, who are the leading supplier to UK football. The technology will greatly enhance the matchday experience for QPR fans, showing live coverage of each home match and instant replays of key match events, as well as provide an important medium for pre-match entertainment. For the club the screen will act as a communication tool, allowing them to easily broadcast club messages and to use as part of their broader communication strategy.
Not just Premiership
As a still comparatively new technology, LED screens used to be seen as an expensive luxury. Having become a popular addition to Premier League stadia, the trend has been slow to filter lower down the leagues, for obvious financial reasons.
Since launch in 2006, ADI's latest Virtuality LED screen technology has quickly become the Premier League's leading screen, and now ADI are replicating this in non-Premier League clubs. They have been instrumental in establishing the technology with a number of contracts with Clubs in The Championship and First Division and now account for over half of the stadium LED screens in these divisions.
digiSCORE
QPR are the first club to take delivery of the latest ADI stadium LED product, digiSCORE. digiSCORE brings full colour Virtuality LED technology to the scoreboard environment. Key to the success of digiSCORE is the custom-built software interface, allowing for quick, simple and customisable control of content.
ADI have designed the operating software in-house, meaning that it can constantly be developed and can be easily customised to fulfil any special requirements a customer may have. Key elements are the simplicity and flexibility of the software – anyone can learn to use it in a matter of minutes and it recognises multiple file formats, enabling it to play out virtually any video or picture format. Content can be previewed and played out "on-the-fly" and it also features a fully customisable match clock.
The ability to instantly and easily playout full screen video also allows for commercialisation of the scoreboard, with sponsors' messages and advertising opportunities available to the club.
Virtuality LED Screen
Loftus Road will, for the first time, be home to a giant LED screen, courtesy of a 30m² Virtuality screen on top of the School End Stand. The screen shows live coverage of each QPR home match, taking a feed from the 3-camera coverage provided by Sky.
In addition to the installation of the screen, ADI have also signed a maintenance contract with QPR, to service and operate the screen for the next three years.
Virtuality is the most popular LED screen in UK football, with installations over the last two years at Aston Villa, West Ham, Everton, Portsmouth, Colchester, Preston, Wycombe and QPR.
Comment
QPR Deputy Managing Director Ali Russell says, "We are delighted to begin the new season with a brand new LED screen and replacement scoreboard. These are just part of an overall improvement plan for Loftus Road as we seek to push for promotion and establish QPR as a leading UK club.
"The new screen looks fantastic and has already been warmly received by our fans. The digiSCORE scoreboard is a huge improvement on our previous ageing scoreboard and we are proud to be pioneering this technology in the league.
"The club's board first investigated LED screens towards the end of 2007; after researching the market and the options available, it quickly became clear that ADI were the natural choice with their ability to provide a complete solution as manufacturer, integrator, content provider and operator."
Robin Currie, Sales Manager at ADI, commented: "ADI are proud to partner QPR as their screen supplier and operator. This contract further cements ADI's position as the UK's leading stadium LED integrator; our experience in the market is second to none and the digiSCORE product is further evidence of our commitment to innovation within the football industry.
"QPR are clearly a club with great ambition, not just on the field but also in their commitment to their fans. They have recognised the appeal for LED screens in a broader contextual environment than solely matchday entertainment. As promotional "reach" has been revolutionised by technologies such as mobile phones and broadband internet, so LED screens have become more valuable as an integral tool in a wider communication strategy.
"As at other stadia, the ADI screen and scoreboard will greatly enhance the matchday experience, while also enabling the club and their partners to communicate effectively with fans. We look forward to working closely with QPR to ensure that they exact maximum value from their investment," concluded Currie.
Contact
Oliver Brindley The ADI Group Pittman Court Pittman Way, Fulwood Preston PR2 9ZG Ph: 07866 608867
E-mail:oliver.brindley@theadigroup.com
Web Site:www.theadigroup.com