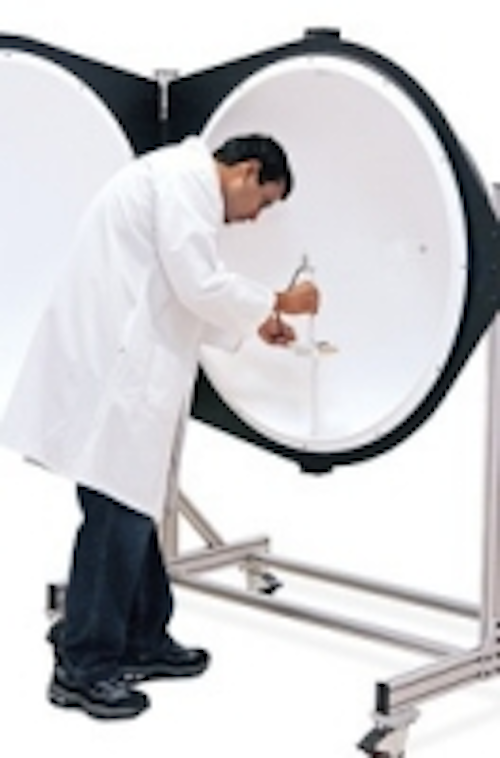 Date Announced: 27 Aug 2008
CSLMS integrating sphere spectrometers, accessories and software get their first showing at LEDs 2008.
North Sutton, New Hampshire (August 21, 2008) – New flux measurement solutions will be the highlight of Labsphere's booth at LEDs 2008 and LED Measurement and Standards 2008, being held between September 29 and October 3, 2008 at the Sheraton San Diego Hotel & Marina, San Diego, CA.
Visitors to Labsphere's exhibit at booth 66 will be able to see for the first time the capabilities of the new CSLMS 4011 40" integrating sphere spectrometer. Designed specifically for high quality total spectral flux and color characterization of solid state light sources, it is an example of Labsphere's large area, high end solutions. For those just getting started, Labsphere's smaller CSLMS LED 1060 10" system and assorted optical heads and accessories will also be demonstrated.
Also being debuted will be the Labsphere's new powerful, easy to use MtrX-SPEC software, the most intuitive platform for calibrating and analyzing spectral radiometric, photometric and colorimetric properties of light sources ranging from simple lamps and LEDs to solid state lighting assembles and traditional indoor and outdoor lighting systems. The company will also be introducing its brand new 2008/2009 Product Guide, containing a complete overview of Labsphere's integrating sphere systems and components, reflectance standards and targets, and coating services.
Show attendees will also have the exclusive chance to see an exciting new technology for forward spectral flux and color measurements utilizing a revolutionary new device.
Finally, for those interested in learning more about flux measurement equipment and methodologies, Greg McKee, Labsphere's Director of Marketing and New Product Development, will present a paper titled, "To Sphere, or to Half Sphere, What is the Answer?" at the Testing Equipment Session of the LED Measurement and Standards 2008 Conference on Friday, October 3, 2008 at 8:45 AM.
For more information on Labsphere products and services visit booth 66 at LEDs 2008.
Contact
Labsphere Inc. 231 Shaker Street North Sutton, NH 03260 USA Tel: +1 603.927.4266 Fax: +1 603.927.4694 Email: labsphere@labsphere.com
E-mail:lisa.wallner@halma.com
Web Site:www.labsphere.com