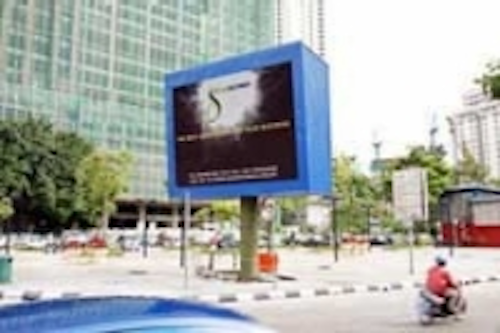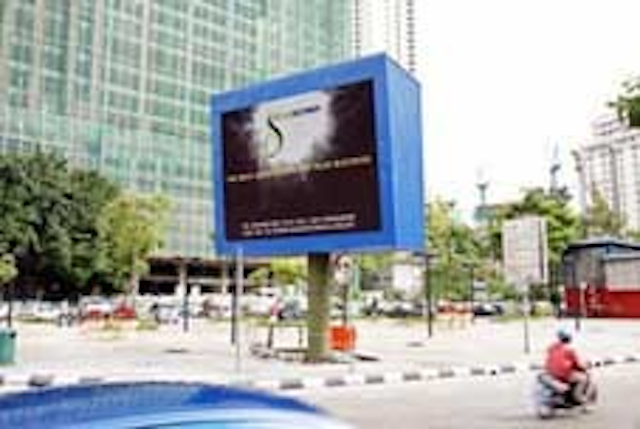 Date Announced: 19 Aug 2008
Malaysia – 19th August 08 – Out-of-home advertising specialist, Danascreen, has chosen a Lighthouse P19 19mm LED screen for one of its latest stand-alone advertising billboards, situated on Jalan Ampang, a major road in the very heart of Kuala Lumpur.
Installed at the beginning of July by Malaysian systems integrator Jua Wangsa, measuring 5 x 5 panels (6.10m (w) x 4.57m (h)) and driven by a Lighthouse LIP-XGA and X-Drive Pro, the screen is a pure advertising outlet in one of this vibrant city's hottest hotspots.
Jua Wangsa is a young company, formed at the end of November 2005, and this was its first foray into the world of systems integration. Mr. Ahmad Husni Abdul Wahab, Jua Wangsa's founder, however, has a wealth of experience in the retail and IT industries and, with the help of the Lighthouse's SESA team, has completed a successful job.
"I'd had no direct experience of Lighthouse LED screens," he explains, "although I've seen them in action before and had helped to demo a unit. I had never been involved in their set up or configuration. However, I quickly understood how they work from Lighthouse's brochures. Essentially, this is a monitor in the same way as any other and how you want it to look totally depends on you.
"Installing the screen was an easy process, the only tricky part was assembling the structure and integrating the screen into it. I must admit, I took a bit of a gamble by taking this job, but we have gained important experience and knowledge, and now I'm hoping to concentrate on this market for Malaysia.
"Mike [Hardip Sanun, sales manager for Lighthouse's SESA office] was extremely helpful all the way through the process and the service from both him and his team was very good."
"It is our aim at Lighthouse to ensure that our customer's experience is a good one right from the very start," adds Mike. "It is good to know that Mr. Ahmad's faith in specifying Lighthouse screen has been justified and we're looking forward to a long and happy relationship with both Jua Wangsa and Danascreen."
Contact
Gasoline Media Limited
E-mail:sarahj@gasolinemedia.com
Web Site:www.lighthouse-tech.com